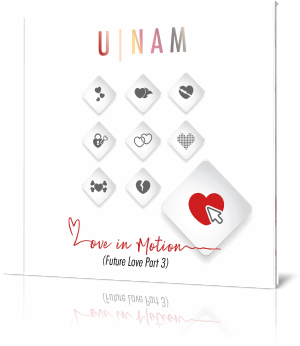 Paris born guitar virtuoso Emmanuel "U-Nam" Abiteboul has not remained passive during the Corona pandemic. He used the time off to get creative again and produced a new album.
The Love Vault (Future Love Part 2) was the continuation of his 2019 release Future Love. His new album Love In Motion (2021) is the third part of his trilogy Future Love. U-Nam has written all tracks with the exception of track 7, which was written by Stephen Stills.
U-Nam performs on the new album lead and rhythm guitars, synth bass, bass, keyboards, programming and editing. Additional musicians on selected tracks are Denis Benarrosh (percussion), Michael White (live drums), Bill Steinway (B3 Organ, Fender Rhodes), Christian Martinez (trumpet & flugelhorn), Alex Al (bass), Maria Grig (violin and viola), Lyudmila Kadyrbaewa (cello), Tim "TiO" Owens (vocals), Joabe Reis (trombone), Franck Sitborn (piano) and Ronny Jordan (lead guitar).
The album opens with Whiz Kid (The) in the same style as the previous album left us back. Packed with a great overdose of guitar power in a George Benson/Nile Rodgers mix underlined by orchestral strings and synth horns you just have to dance along. Everything is focused on the ultimate funky groove.
Based on a heavy shuffle beat U-Nam serves us on Changing Times the steadiness of rhythm and flow. When U-Nam presented his Early Tapes, I was amazed by the elemental power of his guitar playing. This unadulterated original growth is still to be found, for example, in Miss Funk.
Anyone who equates U-Nam with heavier guitar playing will be proved wrong by the title track. Nevertheless, it is the gentle horn chords that make up the velvety quality of Love In Motion.
On Instance Girl you recognize U-Nam again in his cultivated loud mixture of George Benson and Nile Rodgers. Perfect Match (The Wedding Song) probably intends to make the most beautiful day of one's life even more splendid. Nevertheless, the accompanying beat gets into heavy water.
Stephen Stills wrote For What It's Worth because of the Sunset Strip curfew riots in November 1966. The Buffalo Springfield hit became the anthem of the anti Vietnam war movement. Ronny Jordan had recorded a cover version, which could not be completed due to his passing. U-Nam completed the recordings by contributing his own guitar and adding other musicians such as keyboardist Bill Steinway and bassist Alex Al. Final tune is a radio edited version of Whiz Kid (The).
U-Nam has finished with Love In Motion (Future Love Part 3) his trilogy of love themes, but which overall embody U-Nam and his music more than lean towards a relationship topic.





Buy the album in all stores



Album Information



Title: Love In Motion (Future Love Part 3)
Artist: U-Nam
Year: 2021
Genre: Smooth Jazz
Label: Skytown Records

Tracks:

1) Whiz Kid (The) (6:30)
2) Changing Times (6:27)
3) Miss Funk (5:23)
4) Love in Motion (7:23)
5) Instance Girl (5:26)
6) Perfect Match (The Wedding Song) (4:51)
7) For What It's Worth feat. Ronny Jordan & Cool Guitars (4:31)
8) Whiz Kid (The) [Radio Edit] (3:54)





Further reviews:


U-NAM - Back From The 80's

Weekend in L.A. (A Tribute To George Benson)