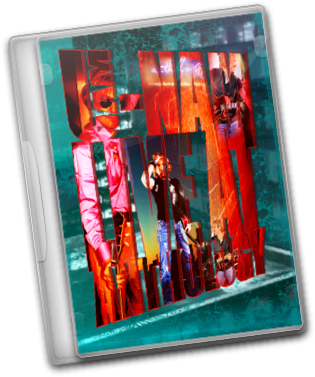 Paris born guitarist Emmanuel Abiteboul, better known as U-Nam, started his career with the debut album The Past Builds the Future on the TrippiníNíRhythm record label in 2005. In 2007 his sophomore album Back From the 80's received rave reviews by many Internet websites. With his third album Unanimity (2009) he built up his popularity.
This year U-Nam shined as one of the most in-demand guitarists on several concerts and festivals. The new DVD Live @ Anthology captures a live concert on March 24, 2010 at the well known location in San Diego, CA.
Anthology has become one of San Diegoís premier upscale dining rooms. On stage, Anthology plays host to renowned local and international musicians in Jazz, Classic Rock, Blues, Latin and World music.
The DVD surprises with an overwhelming title-art, intro and menu presenting a helicopter fly over skyscrapers, which display different oversized views of U-Nam. U-Namís band include drummer Tony Moore, bassist Darryl Williams, keyboardist Kim Hanson, saxophonist and flutist Shannon Kennedy.
First track on the DVD is Funk-4-U-Nity with a fantastic introduction by Kim Hansen on keyboards in George Duke's style. Then the maestro himself enters the stage performing on his Ibanez AF125 under great applause of the audience. Although U-Nam prefers an edgier interpretation his guitar play still reminds of George Benson, which is obviously intended.
On Before I Leave U-Nam presents his guitar mastery in full extension. While Shannon Kennedy on flute underlines the main theme in lovely tones, U-Nam unfolds his skills in an explosive solo.

The romantic ballade Just A Kiss & Goodbye from U-Nam's second album finds an excellent reprise onstage. Marvin Gaye denounced in his song Inner City Blues the enforced poverty and brutality so many Americans must endure in one of the richest countries of the world. U-Nam becomes lost in an extreme solo, before he finds back with the support of Shannon on sax.
The live performance of Franck Sitbon's Keep The Faith from U-Nam's album Back From the 80's showcases the difference to the original recording. U-Nam uses the theme anew for an all-embracing solo. My Heart & Soul reveals the beauty of U-NAM's guitar like an opening flower. Melodious in general U-Nam keeps the promise that this tune would be a little jazzier than the previous songs. Improvisation was the principal topic of this concert.
U-Nam's killer remake of Street Life closes this remarkable evening. Especially this Crusader song made U-Nam so popular in the States, that many see him today's as the legitimate heir of George Benson's throne.

The DVD also contains as bonus a gallery of U-Nam photos provided with his music, his biography and as live jam recorded at NAMM a rendition of George Benson's Before You Go. Furthermore the DVD offers MP3/AAC studio versions of the performed songs, a digital copy of the DVD artwork, sound files of U-Nam's concert at the Gaslamp festival and an exclusive, previously unreleased version of the new single, Act Like You Know (featuring Tim TiO Owens).
Fans of U-Nam watch out for this new DVD featuring the guitarist's live performance. U-Nam will support his new production with numerous live concerts.




Album Information

Title: Live @ Anthology [DVD]
Artist: U-NAM
Year: 2010
Length: 1:20
Genre: Smooth Jazz
Label: U-Nam Productions

Tracks:

1. Intro
2. Funk-4-U-Nity
3. Before I Leave
4. Just A Kiss & Goodbye
5. Inner City Blues
6. Keep The Faith
7. My Heart & Soul
8. Street Life


Further interviews: