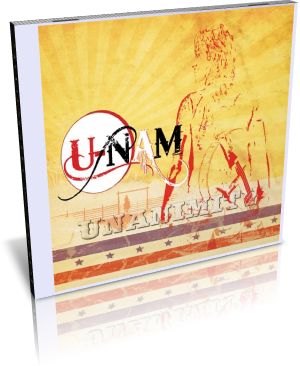 Hailing from Paris U-NAM aka Emmanuel Abiteboul recently moved to USA, where he is performing with the cream of contemporary jazz. Working for artists such as Barry White, Honeyz, Luis Fonsi, Alsou, Kool & the Gang, Billy Paul, Cindy Daniel and CNote motivated him to release after his debut The Past Builds The Future (2005) his sophomore solo album Back From The 80's (2007). This album received high acclaims because of its originality, freshness and rich proficiency. This album was one of the best smooth jazz albums I heard since several years. Without exception strong songs, no filler.
Will U-NAM continue his previous success with his follow-up Unanimity (2009)? This question can be answered with a clear and astounding YES. The title of the new album is explained by U-NAM with his move to L.A. leaving his family especially his four years old son Melvin behind. The concept of "Humanity" should be able to do the "Unanimity". The album was recorded in parts in his studio in France and in his new studio in Rancho Cucamonga called Studio II. As on his previous album U-Nam is supported by the Merkevah Orchestra and the M.A. strings section conducted by Raymond Gimenes, furthermore by the Paris horns (Thierry Farrugia, Christian Martinez and Bernard Camoin). Further musicians on his new album are Denis Bennarosh (percussion), Mike White (drums), Franck Sitbon (clavinet, Fender Rhodes, acoustic piano, organ and background vocals) and some special guest musicians.
U-Nam surprises with his unusual introduction Viva La Revolucion. A movie score of the Mexican revolution with the blowing trumpet, revolting people and the whole body of sound of this ancient period. When you search after the contemporary funk, your quest is over. Funk-4-U-Nity has it all. U-NAM's dynamic guitar performance takes the audience by storm.
Shine On is a tune based on U-NAM programmatic concept Back from the '80's. Strings, wah-guitar, piano and horn-section and U-NAM's out breaking guitar play push you right into the Philadelphia or Motown area. The song was originally recorded by George Duke in 1982 surpassing the sound of Brothers Johnson, Heatwave or Earth, Wind & Fire. This style is continued on Unanimity. Impressions of the past are encompassed in a huge and incredible mélange of various sound patterns.
After this breathtaking travel through the past offers The Day I Met U a slow ballade constituted in the smooth jazz genre. Greetings to George Benson. A good tune for a ride along the west coast in your favorite roadster. The uplifting Soul Boy Reincarnation is featuring the great Najee on flute and alto sax. Numerous sound gimmicks keep the tune running. The ragtime on the end was arranged and played by Frank Sitbon.
(Hang On) U- Is Comin' sucks the spirit of the old tune Hold On, I'm Comin', from the 1966 debut album by Atlantic Records soul duo Sam and Dave, issued on the Atlantic-distributed Stax label. Things really happen. U-NAM lets the turn table burn. 4 Ever Urs is dedicated to U-NAM's sun Melvin. His guitar shows an own life with some liberation from the background sound.
Sometimes music is like a rose (la vie en rose). My Heart & Soul reveals the beauty of U-NAM's guitar like an opening flower. You smell the notes and enjoy the colors. Life can be so awesome.
U-NAM's addiction for the past music finds its next expression in Dancing In The Street. The song was first recorded by Martha and the Vandellas in 1964. U-NAM overdubs his guitar on Martha Reeves' newly recorded vocals bringing the past to contemporary. The slow ballade Losing My Mind has much of Stevie Wonder's style and a lot of European music culture. I love this interaction between horns and guitar. Please More!
On a stomping Motown beat U-NAM defines U Could Make It Happen. But be aware no melody is quick enough for U-NAM's escapades. Every tune is a guitar solo. So the last tune Soul...ism is a fast paced song on which U-NAM bleeds his guitar like a stuck pig. Who holds the world record in quickest funk?
Unanimity is the ultimative candidate for the highest amount of good guitar melodies on one album. Test it!

Further review


CD available
in


Title: Unanimity
Artist: U-NAM
Year: 2009
Length: 1:14:24
Genre: Smooth Jazz
Label: U-NAM Production


Tracks:

01 Viva La Revolucion [1:32]
02 Funk-4-U-Nity [4:45]
03 Shine On [5:10]
04 Unanimity [5:44]
05 This Is Just 4 U [6:06]
06 The Day I Met U [7:09]
07 Soul Boy Reincarnation [6:18]
08 (Hang On) U- Is Comin' [4:52]
09 4 Ever Urs [4:08]
10 My Heart & Soul [6:07]
11 Dancing In The Street [5:36]
12 Losing My Mind [6:24]
13 U Could Make It Happen [6:16]
14 Soul...ism [4:18]