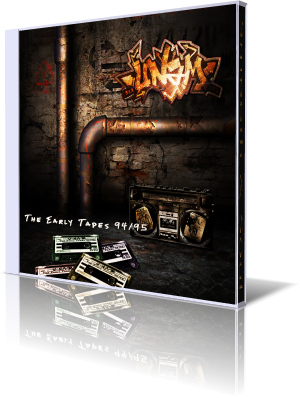 Paris born guitarist Emmanuel Abiteboul, better known as U-Nam, recently released his first DVD, entitle Live At Anthology. He is also known by his albums The Past Builds the Future, Back From the 80's and Unanimity. While these previous mentioned albums present his elegant smooth jazz style, the DVD reveals his quality as solo guitarist.
He began playing guitar, when he was 12. As a teen he studied at CIM, the Paris-based jazz school between 1986 and 1989. With 20 he was already an in-demand studio musician. During this time he released his first solo album on the Swiss/American Funk label, Lakeside Music originally called The Gars Is Back. I assumed this album would have faded away in the doom of time.
But fortunately U-Nam still owns this treasury of the past. Now The Early Tapes 94/95 are available as digital download at CDBaby. The album features French jazz musicians such as Franck Sitbon (keyboards), Denis Guivarc'h (saxophone), Franck Ridacker (drums), Alex Aledji (bass) and more.
U-Nam's style performed on the up-tempo The Gars Is Back differs slightly from the previous mentioned albums. He treats the guitar with energy performing an edgy acid jazz.
The second tune Don't Get Busy is funk-oriented like Average White Band's Pick Up The Pieces. U-Nam plays the guitar like Jimi Hendrix. Denis Guivarc'h and Franck Sitbon add their own version of anarchy to the song.
On Herbie's Mood (Grand Malheur) U-Nam celebrates his knowledge of vintage keyboards. Like Peter White he is not only a superb guitarist and bassist but also masters the keys in a supreme way. What's Up Funkateers? features French Rap from the Parisian underground.
Ca Fonktionne Bien? lets things happen. Acid and experimental in the making, we experience U-Nam in a raw and tense performance. L'Antidote is the same title like Ronny Jordan's debut, but between both songs are worlds apart. This song has a funky flow. U-Nam has an ear for the early American funk tunes.
Les News offers a blast of interaction between sax and guitar. More danceable funk jazz at Soulerie including everything, what was hip in the alternative scene at that time. U-Nam's homage to George Gershwin Summertime closes this remarkable album.
When U-Nam is on the roll, watch out! Even his Early Tapes are catchy like hell.







Buy the album



Album Information



Title: The Early Tapes 94/95
Artist: U-Nam
Year: 2010
Length: 0:42:43
Genre: General Jazz
Label: U-Nam Productions
Notes: Re-Release (Download Only)

Tracks:
01 The Gars Is Back [2:59]
02 Don't Get Busy [3:48]
03 Herbie's Mood (Grand Malheur) [6:09]
04 What's Up Funkateers? [4:59]
05 Ca Fonktionne Bien? [5:16]
06 L'Antidote [6:00]
07 Les News [4:18]
08 Soulerie [4:21]
09 Summertime [4:53]