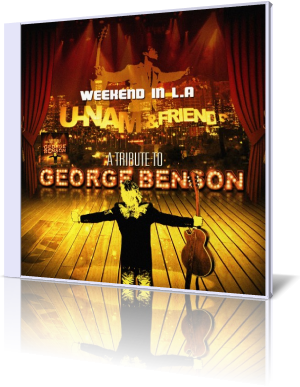 Rarely has one musician put down such a strong start as the guitarist originally from Paris, called U-Nam. Out of nowhere, he surprised the connoisseurs of smooth jazz scene with his albums The Past Builds The Future (2005), Back From the 80's (2007) and Unanimity (2009). What unites all the albums is U-Nam's ardent admiration for the master of Smooth Jazz George Benson.
It begins with the partial selection of songs like Breezin' M.A. or Mister GB and ends with the choice of his instruments Ibanez Guitars. What could be more than nails to do the job and create the ultimate tribute album Weekend In L.A. The album was in the air with thunder inspired by his visit at Benson's home being invited by his buddy Robbie (one of GB's son's) and his impressions he talked about in an interview lately.
U-Nam has cut the umbilical cord of the record companies and funded his new project via Pledge Music. The album includes a mega-all-star line up of artists and musicians including but not limited to George Duke, Marcus Miller, Paul Jackson Jr, Phil Perry, Patrice Rushen, Stokley Williams ( Mint Condition ),Tim "TiO" Owens, Wah Wah Watson, Andreas Oberg, Michael White, Dio Saucedo and many more.
During the process of manufacturing I had the opportunity to take an inside view at the new project, which will be soon available worldwide. The album begins with Weekend In L.A. George Benson had released this Live album in 1977, a short time after his groundbreaking album Give Me The Night. U-Nam's rendition overwhelms the listener with an abundance of guitar artistry.
Give Me The Night is with large distance Benson's No. 1 hit. It is missing on any of his concerts. Under Unam's hands, the piece explodes into a megahit. Singer Tim "TiO" Owens has a major share of the goose bumps effect. Shiver from Benson's album While The City Sleeps (1986) is pushed by Unam and Owens to a contemporary hybrid of smooth jazz, pop and techno music.
Love X Love is following Unam's principle to pump up the song into a showpiece. Nature Boy comes massive featuring vocalist Stokley Williams, lead singer of the band Mint Condition. Obviously it is the hard hip hop beat he likes and keeps him swinging and sweeping.
Are there on the album also reflective moments? This Masquerade could be such a dreamy ballade. But under the direction of George Duke and Marcus Miller also this song progresses to a heavyweight. Hip Skip from Tony Williams album The Joy Of Flying (1978) reveals how deep Unam has explored Benson's performing activity. He develops the piece into a colorful carnival of jazz rock. A shout out to Wah Wah Watson.
Singer Tim Owens transfers Benson's lyrical I Just Wanna Hang Around You from the album 20/20 (1985) into the rough reality of the present. Unam had already recorded Turn Your Love Around for his album Back From The 80's. His new approach is bulkier with more verve and fire.
On the medley Before You Go / Breezin' Unam lets the melody flow. Nevertheless he cannot completely give up his fast guitar loops. However we can laid back and enjoy the melody line. The album ends with On Broadway. A bombastic blast featuring singer Tim "TiO" Owens, which will flash every listener.
Unam's upcoming album Weekend In L.A. demands the full attention of the listener. There is no place for soft tones. Unam rides with flying colors to Benson's throne.



Buy the album in all stores

Album Information

Title: Weekend in L.A. (A Tribute To George Benson)
Artist: U-Nam
Year: 2012
Length: 1:17:24
Genre: Smooth Jazz
Label: SkyTown Records

Tracks:

01 WeekEnd In L.A. [8:18]
02 Give Me The Night [5:44]
03 Shiver [6:31]
04 Love X Love [5:52]
05 Nature Boy [6:11]
06 This Masquerade [11:37]
07 Hip Skip [5:16]
08 I Just Wanna Hang Around You [5:40]
09 Turn Your Love Around [4:37]
10 Before You Go / Breezin' [8:17]
11 On Broadway [9:21]


Bonus Track : Never Give Up On A Good Thing


Further reviews


U-NAM - Back From The 80's

Unamity