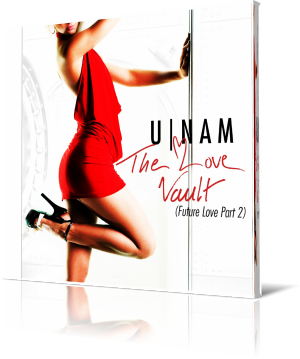 When it comes to his musical career, Paris born guitar virtuoso Emmanuel "U-Nam" Abiteboul has done everything right. Not only does he look back on a veritable number of his own productions, but he has recently helped a larger amount of musicians to their starting lords.
The Love Vault (Future Love Part 2) is the continuation of his 2019 release Future Love a review of his personal development over the last few months. Some react to personal problems with passivity, while others, such as U-nam, plunge into exuberant activity.
U-Nam performs on the new album guitars, Talk Box, Vocoder, bass, synth bass, keyboards, programming and editing. Additional musicians on selected tracks are Denis Benarrosh (percussion), Michael White, Fran Merante (drums), Bill Steinway (Fender Rhodes), Christian Martinez (trumpet & flugelhorn), Gennine Francis-Jackson (background vocals), Mattias Roos (Rhodes, piano), Darko Vlahovic (bass) and Magdalena Chovancova (sax, flute).
U-Nam just starts with Love Potion which presents itself as one of the hippest tracks of this album. The rhythm guitar line fits perfectly with Nile Rodger's style, who helped shape the music of the 90's with his top hits.
Where Does This Door Go is the third studio album by American singer Mayer Hawthorne. It was released on July 16, 2013, by Republic Records. Taken from this album is the song Back Seat Lover funkified and vocoderized with great support by Gennine Francis-Jackson on background vocals.
With Sexy Fresh U-Nam wants to remain true to his musical roots that can be personalized with guitarist George Benson. The whole thing is perfectly Philadelphia solidified with background strings. You and Me (High Priority) delivers a mixture of Talk Box and Vocoder. To uncover parallels, one must go back far into the time of Gap Band and Cameo.
Sharlee is U-Nam's ode to his fictive daughter, that he eagerly desires. U-Nam is the proud father of two sons from his first marriage. Soul Walkin genially combines all the melody elements that have made the smooth jazz genre so popular. If you want to tie it to one piece of music, it's George Benson's Breezin'.
On Into the Night U-Nam juggles with style elements of Nile Rodgers and George Benson according to the motto what Benson and Rodgers have forgotten and U-Nam is now catching up. I would like to see a little more stylistic independence from U-Nam. A good approach would be there Sunset Groove. Christian Martinez delivers with trumpet and flugelhorn an instrumental alternative.
Celebrate Your Body is a disco mix by James Day, Sandra St. Victor, Mathias Roos and U-Nam released under JDís Time Machine. Hear My Dear features Magdalena Chovancova on sax and flute. The song was originally recorded by Marvin Gaye who, at this stage of divorce from his wife, may well be considered a companion of U-Nam's destiny. U-Nam attaches great importance to the fact that his version was inspired by Marvin but composed by himself. U-Nam comments: "Itís a play on words: Marvin is "Here, My Dear" and mine is "Hear, My Dear". The album finally offers two bonus tracks of Love Potion (Dub Playalong Mix) and Sexy Fresh (Radio Edit).
Those who adore the music of George Benson and Nile Rodgers will love U-Nam's album The Love Vault (Future Love Part 2). U-Nam hasn't developed stylistically with his previous albums, but remains with the musical elements that in his opinion seem most promising.






Buy the album in all stores



Album Information



Title: The Love Vault (Future Love Part 2)
Artist: U-Nam
Year: 2019
Genre: Smooth Jazz
Label: Independent

Tracks:

1. Love Potion
2. Back Seat Lover
3. Sexy Fresh
4. You and Me (High Priority)
5. Sharlee
6. Soul Walkin
7. Into the Night
8. Sunset Groove
9. Celebrate Your Body feat. J.D's Time Machine
10. Hear, My Dear feat. Magdalena Chovancova
11. Love Potion (Dub Playalong Mix)
12. Sexy Fresh (Radio Edit)





Further reviews:


U-NAM - Back From The 80's

Weekend in L.A. (A Tribute To George Benson)