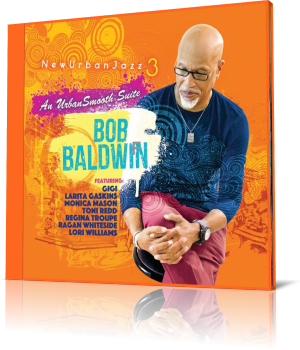 Actually, keyboardist Bob Baldwin had not planned a new album after his instrumental album Henna (2020). However, the current initial situation, which largely excludes touring, is quite fruitful for productivity. Accordingly, we can welcome the new album NewUrbanJazz 3/An UrbanSmooth Suite.

It is already his 32nd album and the third in his NewUrbanJazz series. Bob defines this term as A gumbo of contemporary jazz, Urban, R&B and Brazilian/Caribbean genres. The focus of this album is on the vocal element especially from the R&B genre. Bob places increased emphasis on high quality music and the participation of a variety of musicians, as their musical contribution beneficially broadens the creative spectrum. See credits for details.

As is well known, Bob runs his own radio station and so the first song The Urban Smoothsmith makes reference to this fact and his famous predecessors, the radio personalities Frankie Crocker and Pat Prescott. Right away with the song Funk In Da Pocket Bob pushes the funkomometer to the upper limit. Written and interpreted by La-Rita Gaskins the virtuoso singer brings so much energy that the spark literally jumps over.

The bass driven Friday Night 3000 features the lovely voice of Regina Troupe in a chorus vibe. Bob and Barry Danielian add moments of tension on piano and trumpet, while the honor is going to Regina Troupe, who even scats a bit. All strong pieces but then comes Dance 3000, a blast. This catchy tune with singer Monica Mason grooves incredibly.

The Isley Brothers created Footsteps In The Dark for their double-platinum album Go For Your Guns (1977). Bob transforms this hit to a superb instrumental alternative in collaboration with Barry Danielian and Dennis Johnson. On Deep In Your Heart Bob excels with his piano performance in relation to a hip hop rhythm.

Every Moment was originally released on Toni Redd's album Catching The Redd Eye in 2013, by the way her third solo album after Straight From The Heart and "N" The Key of Redd. A song that should not be forgotten. With Sunday Afternoon Bob presents another beautiful voice, that of Lori Williams. Bob and Lori have produced together the album Out Of The Box (2018).

Lay Your Heart (Beside Me) presents superb singer Gianna Welling. She is also no stranger to Bob. She worked with Bob on his album The Brazilian-American Soundtrack. The instrumental Back To Basics (Family First) has the ultimate flow. This is especially thanks to Melvin Baldwin, an excellent drummer who has already worked for Justin Bieber, Keith Sweat, Johnny Gill or the S.O.S. Band.

Stay Above The Fray comes along as a cheerful melody and invites you to whistle along. Blink Of An Eye shines with a sophisticated arrangement, opposing melodic strands and an inimitable flow. The choral section with Lori Williams, Ragan Whiteside and Bob Baldwin reminds me from the stringent structure a bit of the formation Manhattan Transfer.

Urban Smooth picks up where the intro left off and deepens the melodic performance. The album closes with a vocal version of Back To Basics (Family First) whereby the vocal part is confined to scat interludes.

Bob Baldwin's album NewUrbanJazz 3/An UrbanSmooth Suite is an absolute winner full-packed with enjoyment.







Buy the album in all stores



Album Information



Title: NewUrbanJazz 3/An UrbanSmooth Suite
Artist: Bob Baldwin
Year: 2021
Genre: Smooth Jazz
Label: CSI Records

Tracks:

1) The Urban Smoothsmith (2:34)
2) Funk In De Pocket (6:12)
3) Friday Night 3000 (4:54)
4) Dance 3000 (6:00)
5) Footsteps In The Dark (5:06)
6) Deep In Your Heart (5:36)
7) Every Moment (4:44)
8) Sunday Afternoon (4:51)
9) Lay Your Heart (Beside Me) (7:23)
10) Back To Basics (Family First) (6:18)
11) Stay Above The Fray (4:49)
12) Blink Of An Eye (6:50)
13) Urban Smooth (3:05)
14) Back To Basics (Family First) (Vocal Version) (6:18)
15) Stay Above The Fray (Radio Edit) (4:07)



Credits:


1) THE URBAN SMOOTHSMITH
(Bob Baldwin)
Funky Onion Music, a subsidiary of City Sketches, Inc. (SESAC)

Bob Baldwin – Piano Solo/Keyboards/Bass/Radio Voice
Dennis Johnson – Drum Programming
Phil Hamilton - Guitar

2) FUNK IN DE POCKET (NewUrbanJazz Remix) – featuring la-rita gaskins
(LaRita Gaskins) Lagaki Music (ASCAP)

La-Rita Gaskins – Piano/Vocals
Kim - Backgrounds
Glen Gibson – Guitars
Bob Baldwin – Piano Solo/Keyboards/Bass/Background Vocals


3) FRIDAY NIGHT (NewUrbanJazz Remix) – featuring regina troupe
(Regina Troupe)
Cowhead Music (ASCAP)

Regina Troupe – Piano/Keyboard/Vocals
Barry Danielian – Trumpets/Flugelhorns
Bob Baldwin – Piano Solo/Keyboards/Bass/Background Vocals

Co-Produced by Regina Troupe


4) DANCE 3000 – featuring monica mason
(Monica Mason/Bob Baldwin)
Funky Onion Music, a subsidiary of City Sketches, Inc. (SESAC)
Softone Music Publishing (BMI)

Monica Mason - Vocals
Tony Cintron – Percussion/Timbale' Solo
Ralph Johnson – Drums
Dave Anderson - Bass
Bob Baldwin – Piano Solo/Keyboards/Bass/Percussion/Background Vocals


5) Footsteps In the Dark
(Ernie Isley, Marvin Isley, O'Kelly Isley, Ronald Isley, Rudolph Isley, Chris Jasper)
Sony/ATV (ASCAP)

Barry Danielian – Trumpets/Flugelhorns
Dennis Johnson – Drum Programming
Bob Baldwin – Piano Solo/Keyboards/Bass/Drums/Percussion


6) Deep In Yo Heart
(Bob Baldwin)
Funky Onion Music, a subsidiary of City Sketches, Inc. (SESAC)

Bob Baldwin – Piano Solo/Keyboards/Bass/Drums


7) Every Moment (NewUrbanJazz Remix) – featuring toni redd
(Toni Redd/Bob Baldwin)
Funky Onion Music, a subsidiary of City Sketches, Inc. (SESAC)
Real Redd Music (ASCAP)

Toni Redd – Leads and Background Vocals
Melvin Baldwin – Drums
Phil Hamilton - Guitars
Tres Gilbert - Bass
Bob Baldwin – Piano/Keyboards/Vocals


8) Sunday Afternoon – featuring lori williams
(Lori Williams/Bob Baldwin)
Funky Onion Music, a subsidiary of City Sketches, Inc. (SESAC)/LoriJazz (BMI)

Lori Williams – Leads and Background Vocals
Melvin Baldwin – Drums
Phil Hamilton - Guitars
Tres Gilbert - Bass
Bob Baldwin – Piano/Keyboards/Vocals


9) Lay Your Heart (Beside Me) – featuring gigi
(Gianna Welling/Bob Baldwin)
Funky Onion Music, a subsidiary of City Sketches, Inc. (SESAC)
Gianna Welling Music (SESAC)

Gianna "Gigi" Welling – Lead Vocals
Tom Braxton – Saxophones, Sax Solo
Bob Baldwin – Piano/Bass/Keyboards/Background Vocals


10) Back To Basics (Family First)
(Instrumental Version)
(Bob Baldwin)
Funky Onion Music, a subsidiary of City Sketches, Inc. (SESAC)

Melvin Baldwin – Drums
Barry Danielian – Trumpets/Flugelhorns
Dennis Johnson – Drum Programming
Bob Baldwin – Piano/Bass/Keyboards


11) Stay Above The Fray
(Bob Baldwin)
Funky Onion Music, a subsidiary of City Sketches, Inc. (SESAC)

Phil Hamilton - Guitars
Barry Danielian – Trumpet / Flugelhorn
Dennis Johnson – Drum Programming
Bob Baldwin – Piano/Keyboards/Vocals



12) Blink of An Eye
(Bob Baldwin)
Funky Onion Music, a subsidiary of City Sketches, Inc. (SESAC)

Ragan Whiteside – Flutes, Vocals
Lori Williams – Vocals
Barry Danielian – Trumpets/Flugelhorns
Jorel Flynn (aka "J-Fly") - Drums
Bob Baldwin – Piano/Keyboards/Vocals


13) URBANSMOOTH
(Bob Baldwin)
Funky Onion Music, a subsidiary of City Sketches, Inc. (SESAC)

Bob Baldwin – Piano Solo/Keyboards/Bass
Dennis Johnson – Drum Programming
Phil Hamilton - Guitar



14) Back To Basics (Family First)
(Vocal Version)
(Bob Baldwin)
Funky Onion Music, a subsidiary of City Sketches, Inc. (SESAC)

Melvin Baldwin – Drums
Barry Danielian – Trumpets/Flugelhorns
Dennis Johnson – Drum Programming
Bob Baldwin – Piano/Bass/Keyboards


Bob Baldwin – Piano/Keyboards/Bass/Drums/Vocals
Jorel Flynn appears courtesy of J-Fly Music
Ragan Whiteside appears courtesy of Randis Music
Lori Williams appears courtesy of LoriJazz Records



Further reviews:

Never Can Say Goodbye

NewUrbanJazz,com

Looking Back

For You

NewUrbanJazz.com 2 / Re-Vibe

The Brazilian-American Soundtrack

Bob Baldwin Presents Abbey Road And The Beatles

Henna