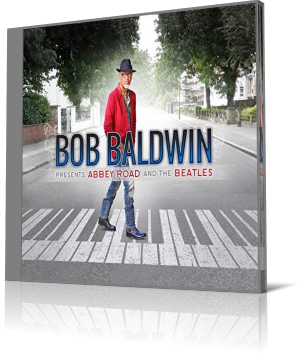 Calling keyboardist Bob Baldwin an active musician borders on simple understatement. He celebrated his twentieth album in 2013 and this year he has already released two albums.
At regular intervals he releases albums in which he thematises certain musicians or groups. On his Tribute to Michael Jackson "Never Can Say Goodbye" (2010) he performed popular songs of the king of Pop. On Betcha By Golly Wow - The Songs By Thom Bell (2012) he encompasses the Philly Sound. On Mellowonder - Songs in The Key Of Stevie (2015) he interpreted songs by Motown hero Stevie Wonder.
This year Bob Baldwin focuses with Bob Baldwin Presents Abbey Road And The Beatles on songs of the Fab Four. By the way his 25th album. Bob plays on this album piano, keyboards, vocals, Vocoder, bass, drums, melodica. On selected tracks he is joined by Dennis Johnson (percussion/atmosphere), Tony Lewis (drums), Dave Anderson (bass), Café' Da Silva (percussion), CeCe Peniston, Lori Williams (lead vocals), Euge Groove (sax), and Ragan Whiteside (flute).
Come Together was released on the Beatles album Abbey Road (1969). Bob's rendition Come Together (Can We All Just Get Along?) searches a more psychedelic approach in the spirit of Timothy Leary, for his campaign John Lennon originally composed the song. Yellow Submarine, the tenth Beatles album was the soundtrack of the animated film of the same name from 1968. (Mellow) Yellow Submarine is Bob's sophisticated reflection about the famous theme.
And I Love Her, a title of the album A Hard Day's Night (1964) was already covered by Diana Krall and Brad Mehldau. From the simple melody Bob expands into a jazzy panorama of great elegance. When Don't Wanna Be (The Fool on the Hill) started, my first thought was I would listen to an EWF song, but quickly CeCe Peniston kicks the main melody in.
Imagine (Living as One) is John Lennon's epic best-selling and most touching song inspiring a whole generation and beyond. Bob's interpretation featuring saxophonist Euge Groove transfers the magic to a well-crafted smooth jazz song. Michelle (My Girl), a song by Paul McCartney, was released on the album Rubber Soul (1965). Ragan Whiteside sets accents of exhilaration with her flute.
Something (In the Way She Moves) was released in 1969 on the Beatles album Abbey Road. Bob presents his one-man-show on the instrumental version with a jazzy treat on piano. My Love (1973) is a love song by Paul McCartney and Wings. It was written by Paul McCartney as a tribute to his first wife Linda. With Lori Williams as lead singer this song starts to excel.
Abbey Road is a collaboration and duet of Bob Baldwin and Lori Williams created as tribute to the music of the Fab Four. Yesterday was a song by Paul McCartney, that he pondered for months before he got the right degree. The song was finally released on the album Help (1965). With more than 2200 covers it is one of the most covered song ever recorded. Certainly an irresistible temptation for Bob, which he could not resist, which benefits us listeners.
Eleanor Rigby was released on the 1966 album Revolver. The Beatles only created the vocal harmonies, while instrumentally the song was played by an octet of string musicians performing a score composed by producer George Martin. Bob's rendition shines with a superb piano solo. Something (In the Way She Moves) as vocal version features American vocalist Lori Williams, who recently received high acclaims by critics for her stunning album Out Of The Box.
The songs of the Beatles are a grateful subject for every musician. We owe it to Bob Baldwin that he revealed with Bob Baldwin Presents Abbey Road And The Beatles the fantastic jazz potential of this treasury of songs to us.




Buy the album in all stores

Album Information

Title: Presents Abbey Road And The Beatles
Artist: Bob Baldwin
Year: 2018
Genre: Smooth Jazz
Label: City Sketches Records

1 Come Together (Can We All Just Get Along?) 6:01
2 (Mellow) Yellow Submarine 7:06
3 And I Love Her 5:25
4 Don't Wanna Be (The Fool on the Hill) [feat. CeCe Peniston] 5:52
5 Imagine (Living as One) [feat. Euge Groove] 5:09
6 Michelle (My Girl) [feat. Ragan Whiteside] 5:52
7 Something (In the Way She Moves) [Instrumental] 3:44
8 My Love (feat. Lori Williams) 4:19
9 Abbey Road (feat. Lori Williams) 4:38
10 Yesterday 4:41
11 Eleanor Rigby 6:10
12 Something (In the Way She Moves) [Vocal] 4:42





Further reviews:


Never Can Say Goodbye

NewUrbanJazz,com

Looking Back

For You

NewUrbanJazz.com 2 / Re-Vibe

The Brazilian-American Soundtrack