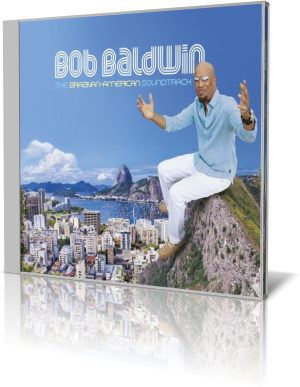 Composer and multi-instrumentalist Bob Baldwin assembled a Latin-American team of musicians to create the ultimate soundtrack for Olympic 2016 in Rio.
Team players are Café Da Silva, Armando Marcal and Rafael Pereira (percussion), Torcuato Mariano, Marlon McClain and Phil Hamilton (guitars), Gabriel Mark Hasselbach (trumpet), Marion Meadows and Freddy V (sax), Ragan Whiteside (flute), James "Crab" Robinson, Porter Carroll II, Gigi, Zoiea Ohizep (vocals). Baldwin is singing lead and background as well as playing piano, Rhodes, keyboards, bass, drums, percussion, Moog bass, Melodica, strings and clave on the album.
The double album encompasses the recordings of two hemispheres, Movement I Rio-Ipanema and Movement II New York. Every CD is created in separate cultural circles with very own musicians.
Bob Baldwin has a special affinity for the Brazilian music including Antonio Carlos Jobim, Ivan Lins and Djavan. In 2004 he already recorded Brazil Chill with a host of Brazilian players in Rio. He catches up with this album on the first CD. The starter Funky Rio joins in the excitement and atmosphere of Brazil's secret capital.
On Ipanema Fusion keyboardist Bob Baldwin is joined by percussionist Café Da Silva, while Dennis Johnson works on the additional drum programming. This song is for brain and body. Bob's extensive jazz excursions on keys are perfectly framed by organic percussion. Teardrop features flautist Ragan Whiteside, who is promoted by Bob since many years and has been cooperating with him on a variety of projects. Her enchanting style is always an enrichment.
Caipirinha is Brazil's national cocktail and the delightful taste of this drink fuels the song with energy and verve. Argentinean guitarist Torcuato Mariano contributes with his charismatic style a big dose of Brazilian flavor to the groove. The Corcovado/The Redeemer is the all-dominating mountain Rios and is known worldwide for the statue of Jesus atop its peak, entitled Cristo Redentor. Another fine musical tribute to the city of Rio.
Friends of EWF's music will be thrilled by Greatest Lover, Bob has composed the tune in the spirit of Maurice White. Lead vocalist and responsible for the wonderful timbre is Zoiea Ohizep, who has co-written the song with Bob. As a veteran back up vocalist Zoiea has recorded with Melba Moore, Freddie Jackson, Phyllis Hyman, Glenn Jones & Sara Dash.
The interlude Boa Noite provides the necessary atmosphere for the subsequent piece Looking At Me featuring singer Gigi. She is unquestionably a pleasant discovery and hopefully she decides to continue her vocal career in this direction. The soulful Anjo De Mim (Angel of Mine) is a masterpiece by Brazilian songwriter Ivan Lins with an outstanding lyrical flow transferred in the typical Baldwin groove.
Lins' composition Começar de Novo (Starting Over) was often covered under the title The Island for example by Sergio Mendez, Barbara Streisand or Patti Austin. The romantic melody invites to this incredibly accessible tune featuring famous saxophonist Leo Gandelman. Eu Te Devoro by Brazilian singer/songwriter Djavan is a cordial love ballade that allows some interpretation.
The swinging Oasis Of Love is equally melodious and jazzy. Baldwin is inspired by Al Jarreau's scat singing showing all aspects of a great musician from composition, performance to arrangement. Love Dance/May I Have This Dance is a jazz standard by Ivan Lins with a favor for the smoother side of jazz perfectly recaptured by Baldwin. Children Of The Sun ends the first CD with an esoteric fine tuned song.
The New York section starts with a Home From Work, a bass and rhythm enhanced tune with an exceedingly active Baldwin shining on keys. Maurice-The Sound Of His Voice is dedicated to the late Maurice White, the former founder of the legendary group EWF. The Latin flavored tune evokes with blissful excursion on piano and sing sang memories of this great musician.
My Soul is compared to the previous pieces a little minimalistic. A programmed rhythm stays in the background, while Bob on piano and Marion Meadows on soprano sax share the lead. The piano kicks it up a notch while Marion takes a more melodic part. Attentive listeners will remark that For You is a remix of a song, Baldwin has already released on his album For You (2001). This version features Porter Carroll II, a member of Atlantic Star, who already graced numerous projects.
Summer Madness, originally released on Kool And The Gang's album Light Of The World (1974), features singer James "Crab" Robinson, formerly a prominent vocalist of the group Change. Baldwin previously released this song on his album Lookin' Back (2009). Yesterday is one of the most famous tunes, the Beatles ever composed. On this album Baldwin presents an extended version compared to the one on his album For You.
The Samba propelled South Of The Border presents Bob's piano and keyboards driven movement with great emphatically improvisation and vibrant performance. Saxophonist Fred 'Freddy V' Vigdor brings in some fiery tones. Bob Baldwin and Canadian trumpeter Mark Gabriel Hasselbach provide on Mobile And Global an electrifying exuberance of melodic richness.
Summer's Over presents with a bitter-sweet melancholy singer Michele Morehead harmonizing the song in perfection. I Need The Air (You Breathe) is a slow paced piano piece underlined with orchestral strings decorated with lyrical extensions. The melodic State Of Mind features again Freddy V on sax sharing the melody with Bob on piano. The Message is at the same time a hymn to Maurice White as well as a moral guide for a better world.
Bob Baldwin's double feature The Brazilian-American Soundtrack is a concentrated charge of entertainment. With more than two hours the listener gets a stunning recording full of melodic ideas.



Biography
Buy the album in all stores
Album Information

Title: The Brazilian-American Soundtrack [Disc 1]
Artist: Bob Baldwin
Year: 2016
Length: 1:15:49
Genre: General Jazz
Label: Red River Entertainment


Tracks:
01 Funky Rio [8:50]
02 Ipanema Fusion (Featuring Café Da Silva) [6:36]
03 Teardrop (Featuring Ragan Whiteside) [5:50]
04 Caipirinha (Featuring Torcuato Mariano) [7:19]
05 Corcovado / The Redeemer (Featuring Torcuato Mariano) [5:18]
06 Greatest Lover (Featuring Zoiea) [4:46]
07 Boa Noite [1:54]
08 Looking At Me (Featuring Gigi) [5:47]
09 Anjo De Mim [6:00]
10 The Island (Featuring Leo Gandelman) [4:02]
11 Eu Te Devoro [5:33]
12 Oasis Of Love [5:02]
13 Love Dance / May I Have This Dance [4:49]
14 Children Of The Sun [4:02]


Title: The Brazilian-American Soundtrack - [Disc 2]
Artist: Bob Baldwin
Year: 2016
Length: 1:15:49
Genre: General Jazz
Label: Red River Entertainment

Tracks:
01 Home From Work [5:41]
02 The Sound Of His Voice (For Maurice White) [7:29]
03 My Soul [
6
:10]
04
For You
[5:27]
05
Summer Madness [
6:01]
06
Yesterday
[6:52]
07
South Of The Border
[7:07]
08
Mobile And Global
[5:11]
09
Summer's Over [
6:27]
10
I Need The Air (You Breathe)
[6:09]
11
State Of Mind
[7:26]
12
The Message (A Maurice White Dedication)
[2:53]





Further reviews
:
Never Can Say Goodbye
NewUrbanJazz,com
Looking Back
For You
NewUrbanJazz.com 2 / Re-Vibe