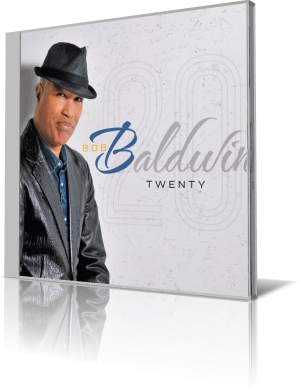 The battle of musicians for a recording contract to market their music is normal nowadays. In the case of Bob Baldwin the constant change of labels is already part of his musical experience. After all, it has left such an impression that he expressis verbis published his problems in the liner notes.
Against all odds Bob has managed to release his twentieth album on his own label, which significantly is entitled Twenty. Produced and arranged by Bob Baldwin and in parts by Dennis Johnson the album features several guest musicians mentioned below.
The album starts with Welcome To Planet Funky Onion. This track sounds inspired by Bob's earlier piece Welcome To The Games, one of my favorites. Seabreeze comes like a gentle wind, the harmonies caress the ear. Gabriel Hasselbach contributes with his gentle trumpet sounds to the overall smooth impression.
Chameleon 3000 presents itself as a work in two parts. The melody of Pt. 1 is hooking, the instrumentation at its finest. Baldwin can build on the funky original Herbie Hancock's. Baldwin can build on the funky original Herbie Hancock's, but keeps it with the help of Hasselbach and Ragan Whiteside as an elegant smooth jazz version. Pt. 2 is far more funkier featuring drummer Poogie Bell and percussionist Café Da Silva. The spark of a live concert jumps over.
With Mash Up Bob promotes his New Urban Jazz Lounge, tagged as "The Hottest Music Podcast on the Web". Turn The Club Up presents a hard beat-driven R&B flavored tune featuring singer Latrese Bush. Ain't Nobody Got Time Fo Dat is obviously a tribute to the internet sensation Sweet Brown and the hundreds of YouTube remixes of the interview she gave after the fire destroyed her apartment. "Ain't nobody got time for that!" became one of the more memorable lines.
On And On enjoys with a nice flow, especially Bob's dreamy and masterful piano run. Time offers in spoken words some reflections about the theme Time and how you should spend it in a reasonable manner. With Global Warming Baldwin takes on another controversial issue, a weather phenomenon among which are suffering especially the United States. Spoken word artist Ron "Focus" Manager is getting to the point.
Baldwin serves Freddie Hubbard's eclectic trumpet piece Red Clay as a fashionable smooth jazz interpretation supported by Marion Meadows on sax and Joey Sommerville on trumpet. The trio excels on their respective instruments making the cover a stunning sound experience. Another highlight is the rendition of Herbie Hancock's Butterfly in a cooperation with drummer Poogie Bell and percussionist Café Da Silva.
Your Love's Alive is a romantic ode to the eternal fire which is burning between all lovers. The tender mood continues with Music Changed My Life. With BB Timeline Baldwin gives a final insight in his own musical biography with a cornucopia of sound samples.
Twenty is with more than one hour Baldwin's longest album, offering an outstanding and energetic work on piano and keyboards, with tasteful melodies and professional musicianship of all players.




Buy the album in all stores

Album Information

Title: Twenty
Artist: Bob Baldwin
Year: 2013
Length: 1:16:25
Genre: General Jazz
Label: City Sketches Inc.


Tracks:

01 Welcome To Planet Funky Onion [5:32]
02 Seabreeze / Bob Baldwin Feat. Gabriel Hasselbach [5:51]
03 Chameleon 3000 / Bob Baldwin Feat. Ragan Whiteside & Gabriel Hasselbach [5:55]
04 Chameleon 3000 Pt. 2 / Bob Baldwin Feat. Poogie Bell & Café Da Silva [5:59]
05 The Mashup (Uppa Room Remix) [2:04]
06 Turn The Club Up / Bob Baldwin Feat. Latrese Bush [6:07]
07 Ain't Nobody Got Time Fo Dat / Bob Baldwin Feat. Sweet Brown [5:10]
08 On And On [5:59]
09 Time (A Spoken Word) [3:10]
10 Global Warming / Bob Baldwin Feat. Focus [5:15]
11 Red Clay / Bob Baldwin Feat. Marion Meadows & Joey Sommerville [5:47]
12 Butterfly/Let Her Fly / Bob Baldwin Feat. Poogie Bell & Café Da Silva [9:18]
13 Your Love's Alive [1:45]
14 Music Changed My Life [5:19]
15 BB Timeline [3:14]








Further reviews

Never Can Say Goodbye

NewUrbanJazz,com

Looking Back

For You

NewUrbanJazz.com 2 / Re-Vibe