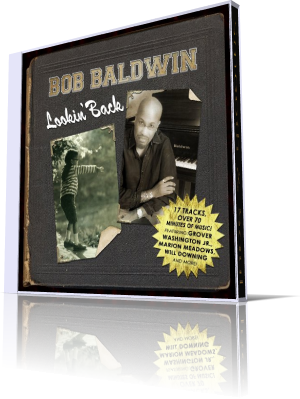 Bob Baldwin just released on NuGroove Music his sophomore album Lookin' Back. The title already reveals it, Bob honored us with a retrospective of his musical career. The album contains 17 tracks with over 70 minutes of music. In my review about Bob's previous album Newurbanjazz.com (2008) I wrote down a survey about his capricious musical life. Now Bob delivers his own musical view and in addition six new compositions. So here is your collectable gem.
The album starts with a remix of Summer Madness, originally released on Kool And The Gang's album Light Of The World (1974). Featured singer is James "Crab" Robinson, formerly a prominent vocalist of the group Change. Bob Baldwin's retro synth and piano in combination of James Robinson's glorious vocals are terrific.
One of my eternal favorites is Summer Breeze. I was infected by the version of the Isley Brothers (1974) and their wonderful harmonies. Bob Baldwin's instrumental version is a awesome revitalization of this ancient hit featuring Marion Meadows on soprano sax.
Baldwin released The Way She Looked At Me on his album Standing Tall (2002). A catchy song featuring Chieli Minucci on guitar and Dean James on saxophone. The Newurbanjazz remix is a pinch funkier and has a strong rhythm finish. That could be build to a Hip Hop hit.
Wishing You Were Here is taken from Bob's album Reflections Of Love (1992) showcasing Marion Meadows on sax, and great singer Will Downing. This album was Bob's first major step into the smooth jazz genre.
The interlude I Heard You Twice (The First Time) is an elegant bridge to People Make The World Go Round. This song taken from his album Cool Breeze (1997), featuring Marion Meadows, is a rendition of the Stylistics' hit from 1972. I Only Do Those Things is a new collaboration with soul singer Will Downing. A romantic ballade in the classic style of the 70's.
I'm Changing features the splendid Toni Redd. Songstress Toni Redd is an intense vocalist whose style is infused with R & B, contemporary smooth jazz, and classical soul; these elements combined create her unique and distinct powerful ambience. Straight from the Heart was her debut album (2004). This is certainly not her last appearance on a smooth jazz album.
Last Call is a short version taken from Bob's album Brazil Chill (2004). Lead singer is Zoiea Ohizep who also performed on Freddie Jackson's It's Your Move and Bob's Newurbanjazz.com. You will love his timbre. The short interlude Oasis with a strong horn section guides to It's Not Enuf featuring the late Grover Washington Jr. taken from the album Reflections Of Love. This up-tempo tune features the whole synth equipment which was reflecting the spirit of the early 90's.
Never Can Say Goodbye from the album Bobbaldwin.com (2000) is another highlight of Bob's musical career. Chuck Loeb on guitar finds the best answer to Bob's piano mastery. The song was written by Clifton Davis and originally recorded by The Jackson 5 in 1971.
We Miss You / The Marvin Medley is a wonderful take from the album Rejoice (1990). The song features vocalist James "Crab" Robinson supported by a chorus line of lead singer Sharon Bryant, and background vocals Vaneese Thomas and Porter Caroll III. Make Love, Not War was the anti-war slogan commonly associated with the American counterculture of the 1960s, especially against the war in Vietnam. Bob forms this slogan to a heartfelt soulful tune featuring Robinson. Soul in the golden tradition of late Donny Hathaway.
Bob Baldwin wrote Ukuphilia (Live Version), when he was in South Africa in the year 2000. A rhythm influenced tune with great flair. The interlude Café is a Samba, certainly recorded in Brazil. If you like this style, give also Bob's album Brazil Chill a listen. God Bless America is taken from the album The American Spirit (2002). This CD is dedicated to all of those who have lost their lives in the tragic events that evolved on 9/11/2001. It's Bob's own musical approach and coping with this disaster and tragedy.
Lookin' Back is Bob Baldwin's personal rear view on a live of ups and downs, a great musical package for all fans of his music.






Buy the album


Further reviews


Album Information

Title: Lookin' Back
Artist: Bob Baldwin
Year: 2009
Length: 1:17:50
Genre: Smooth Jazz
Label: NuGroove Music LLC


Tracks:

01 Summer Madness (Remix) [feat. James "Crab" Robinson] [5:20]
02 Summer Breeze (Extended Mix) [feat. Marion Meadows] [5:37]
03 The Way She Looked At Me (NewUrbanJazz Remix) [4:47]
04 Wishing You Were Here (Featuring Marion Meadows & Will Downing) [5:23]
05 I Heard You Twice (The FIrst Time) [Interlude] [1:26]
06 People Make The World Go Round (Featuring Marion Meadows) [3:44]
07 I Only Do Those Things (Featuring Will Downing) [4:54]
08 I'm Changing (Featuring Toni Redd) [5:00]
09 Last Call (Featuring Zoiea) [5:15]
10 Oasis (Interlude) [1:19]
11 It's Not Enuf (Featuring Grover Washington, Jr.) [5:32]
12 Never Can Say Goodbye (Featuring Chuck Loeb) [5:00]
13 We Miss You / The Marvin Medley [6:44]
14 Make Love, Not War [4:46]
15 Ukuphilia (Live Version) [6:51]
16 Café (Interlude) [1:19]
17 God Bless America [4:54]