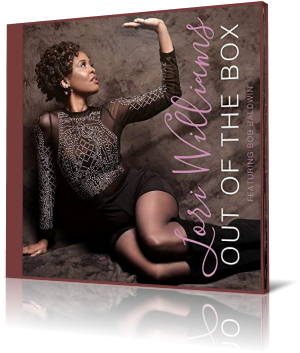 American vocalist Lori Williams has a strong connection to jazz. Her website is Lorijazz.com indicating that jazz is her profession and passion. However, limiting her vocal abilities to one genre would not do justice to her distinctive personality.
Lori Williams made her vocal solo debut with the self produced album Healing Within (2010), with which she received considerable merits as a jazz singer. This impression was intensified with her second album Eclipse Of The Soul (2012). She does not leave this musical homeland with her third album Behind The Smiles (2016), which, like its predecessors, was released on the Pacific Coast Jazz label. Nevertheless, in some songs she enjoys to seamlessly lend R&B colors to her voice across genres.
Her new album Out Of The Box (2018) appears like a reorientation of the established jazz singer. "When you reach the milestone of 50, many things begin to cross your mind," Lori declares. "Out of the Box is a deliberate breakaway from me being stereotyped as 'Lori only does this' – this being straight ahead jazz. For me to be recognized and respected within that music has been quite an accomplishment but there is more to me. Out of the Box is a Neo-Soul Jazz project".
Her new album is based on an intensive collaboration with producer and keyboardist Bob Baldwin, who has already taken artists like Ragan Whiteside, Madoca, and Brenda Reynolds under his wing. Featured musicians on selected tracks are Will Downing, Maysa, Troy Sol Edler, Rayshun Lamarr, Nathan East, Tom Browne and David Dyson.
Lori takes us on a journey with Sailing On A Dream. She gives her voice a smoky mode, which brings her vocal near Maysa. By using the overdub recording procedure new ways of choral articulation open up for her compared to her earlier recordings.
Let's Walk is a good opportunity to let her wonderful voice have an effect on you. Once you put aside the triviality of the lyrics, many of her contemporaries also dedicate themselves to the theme of relationships in their songs, you enjoy the incredible charm of her harmonic voice.
I Like the Way You Talk (To Me) already pioneered the "new" Lori Williams in 2017 as Radio Promo. The overwhelmingly positive reactions made it easy for Lori to continue along the path she had taken.
I Can't Help it was originally written by Stevie Wonder and Susaye Greene (The Supremes) for Michael Jackson's epic Multi-Platinum awarded album Off The Wall (1979). The incredible appeal of this album has inspired numerous artists to interpretations, among them Rick Braun, Norman Brown, Kirk Whalum, Skinny Hightower, U-Nam, Maysa and of course Bob Baldwin on his tribute album Never Can Say Goodbye (2010). Thanks to the high expressiveness of her voice Lori manages to evoke new nuances in the song with the fascination of the new.
Where's That Smile? features with Lori Williams, Will Downing, Maysa, Troy Sol Edler & Rayshun LaMarr an exceptional formation of leading American vocalists creating the highest quality of sung artistry and expansive emotions. With Out Of The Box Lori Williams unfolds her whole range of vocal creativity from soul, scat song, vocal jazz and R&B. It seems that bassist Nathan East joins the chorus at the beginning of the song.
Hold On was written by Bob Baldwin and Lauren Highsmith, Lori's daughter. The song has a dynamic turn and Tom Browne delivers the twist on trumpet. Our Love is Real is a love ballad that Lori transforms into notes with an emphatic intuition.

'Round Midnight, a jazz standard by pianist Thelonious Monk (1944) is quoted as the most covered jazz piece ever. Lori's rendition would fit in well with her earlier jazz albums. Little Girl Blue is a popular song with music by Richard Rodgers and lyrics by Lorenz Hart, published in 1935. Well-known singers like Chet Baker, Judy Garland, Keith Jarrett, Janis Joplin, Diana Ross, Nancy Wilson, Sarah Vaughan, Frank Sinatra, Nina Simone or Ella Fitzgerald have already interpreted this song. A gallery of the stars, in which Lori Williams joins worthily.
Bonus tracks of Let's Walk, Our Love is Real, I Like the Way You Talk (To Me) and Deja Vu complete the album. The latter song appeared on her album Behind The Smiles and recommends the inclined listener to turn to her earlier albums as well.
Lori Williams shows us with Out Of The Box that it's not the style that's essential, but the voice or more precisely her vocal personality. In our fast-moving times, her album is a good reason to stop and think about what is important to us in life.




Buy the album in all stores

Album Information

Title: Out Of The Box
Artist: Lori Williams
Year: 2018
Genre: Smooth Jazz
Label: LoriJazz-CSI

1 Sailing on a Dream 5:35
2 Let's Walk 4:25
3 I Like the Way You Talk (To Me) 4:42
4 I Can't Help It 6:24
5 Where's That Smile? (feat. Bob Baldwin, Will Downing, Maysa, Troy Sol Edler & Rayshun LaMarr) 5:58
6 Out of the Box (feat. Nathan East) 4:40
7 Hold On (feat. Tom Browne) 4:29
8 I Like the Way You Talk (To Me) [Interlude] 1:12
9 Our Love is Real 4:52
10 'Round Midnight (feat. Bob Baldwin) 5:18
11 Little Girl Blue 4:58
12 Let's Walk (Radio Edit) 3:56
13 Our Love is Real (Radio Edit) 4:00
14 I Like the Way You Talk (To Me) [Radio Edit] 3:58
15 Deja Vu (Radio Edit) 3:59