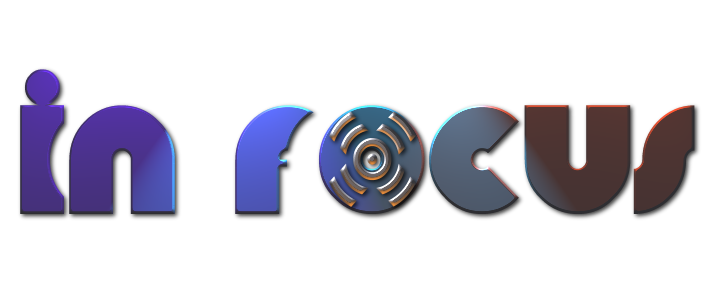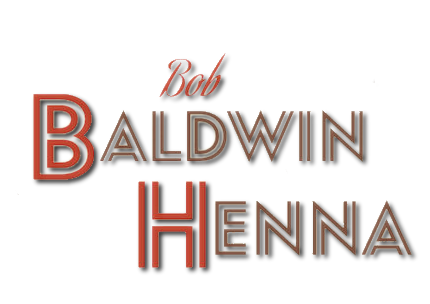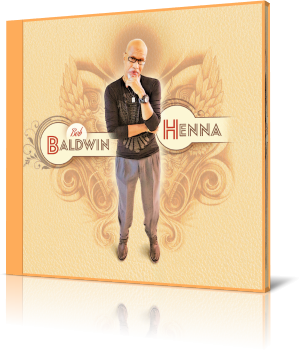 In a promotional video Bob Baldwin reflects on the fact that Henna is already his 31st album. Contemporary jazz pianist Bob Baldwin started his career in 1983 and his debut album was A Long Way To Go (1988).
The title of the debut borders on clairvoyant abilities, which are confirmed by his new album. Henna is a reddish-brown dye made from the powdered leaves of a tropical shrub, used to color the hair and decorate the body. Basically, it is a symbol of transience, of which Bob is also aware.
The musicians of this album are a mirror of an in a long time grown friendship with a variety of his musical companions. Dave Anderson (bass), Tony Lewis (drums), Café Da Silva (percussion), Ragan Whiteside (flute), Lori Williams (vocals), Rohn Lawrence (guitar), Tom Browne, Barry Danielian, Joey Sommerville (trumpet), Marion Meadows, Walter Beasley, Marcus Anderson (sax), Brooke Alford (violin), Oli Silk (keyboards), and the guitarists Nils and U-Nam.
The album starts with I Heard You Twice (The First Time) featuring band members Dave Anderson (bass), Tony Lewis (drums), and Café Da Silva (percussion), who are playing on the first six tracks. A tenderly melting streamlined scat song for epicures who love elegant keyboard sounds.
In the Print presents a playful piano dreaming with a remarkable rhythm that reminds a bit of late George Jinda. Sorry (not Sorry) has a Latin American touch through Café Da Silva's percussion, which docks perfectly with Bob's piano performance.
On Henna Bob Baldwin shows his perfect skills as composer and multi-instrumental artist with piano and keyboards under his hands humming along in a Pat Metheny Group style. Food for Thought is mainly played on the electric piano. The advantage of the digital piano, its directness, the absence of background noise, the brevity of the sound, are used by Bob in an optimal way in the sense of technical sophistication.
A Brazilian Love Affair (1979) was the fifteenth studio album by keyboardist and record producer George Duke. Bob's rendition, a tribute to late George Duke, expands to more than six minutes and displays Bob's side as piano virtuoso.
No Longer Lost features American jazz singer Lori Williams. Her newest solo album Out Of The Box (2018) is an intensive collaboration with producer and keyboardist Bob Baldwin and this song is practically a thank you.
Long Weekend (See You on Tuesday) features another protégé by Bob, the formidable flutist Ragan Whiteside. Most recently Bob supported Ragan on her album Treblemaker (2017).
On Keep Movin' Bob is in the center of attention, because he composes, arranges and performs the song with all instruments himself. This contrasts with Club Life, to which he has invited a large number of musicians from his circle of friends. The Groove Pact is featuring Brooke Alford, Marcus Anderson, Walter Beasley, Tom Browne, Barry Danielian, Rohn Lawrence, Marion Meadows, Nils, U-Nam, Oli Silk, Joey Sommerville, and Ragan Whiteside. The horn driven piece has a jazzy and funky attitude and keeps the fire on a length of more than 10 minutes.
Fly Breeze is an ambitious contemporary jazz piece that approaches the style of Barry Danielian, who plays a central role as trumpeter, but also gives Ragan Whiteside enough space to shine on the flute. Bob has written the song in collaboration with drummer Jorel Flynn like the next tune In the Moment. Jorel "J-Fly" Flynn is an in demand drummer, who has already worked with the who-is-who of R&B, Pop and smooth jazz. In The Moment is coherent in itself, with an exquisite ensemble of brilliant players.
The last two pieces are radio edited versions of Club Life and Long Weekend.
Bob Baldwin has always been a guarantee for excellent music with a certain quality standard. He fully lives up to this claim on his new album Henna. A must have for every smooth jazz fan.




Buy the album in all stores

Album Information

Title: Henna
Artist: Bob Baldwin
Year: 2020
Genre: Smooth Jazz
Label: CSI Records


Tracks:

1 I Heard You Twice (The First Time) 5:52
2 In the Print 5:29
3 Sorry (not Sorry) 6:50
4 Henna 6:38
5 Food for Thought 5:44
6 A Brazilian Love Affair (For George Duke) 6:15
7 No Longer Lost (feat. Lori Williams) 4:13
8 Long Weekend (See You on Tuesday) [feat. Ragan Whiteside] 5:04
9 Keep Movin' 4:42
10 Club Life 10:50
11 Fly Breeze (feat. Jorel Flynn) 5:30
12 In the Moment (feat. Jorel Flynn) [Extended Version] 5:55
13 Club Life (Smooth Radio Version) 4:15
14 Long Weekend (See You on Tuesday) [feat. Ragan Whiteside] [Smooth Radio Edit] 3:59



Further reviews:


Never Can Say Goodbye

NewUrbanJazz,com

Looking Back

For You

NewUrbanJazz.com 2 / Re-Vibe

The Brazilian-American Soundtrack

Bob Baldwin Presents Abbey Road And The Beatles