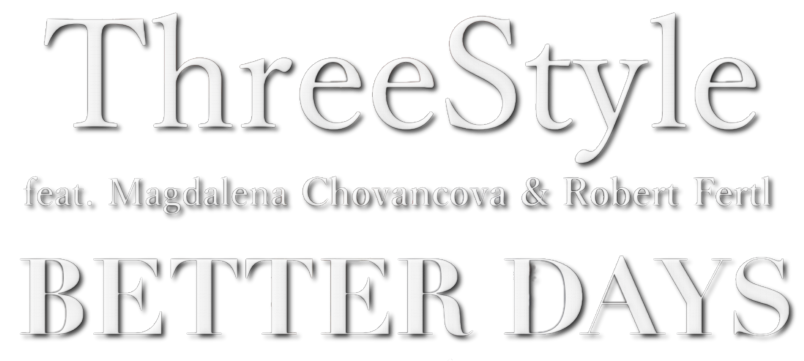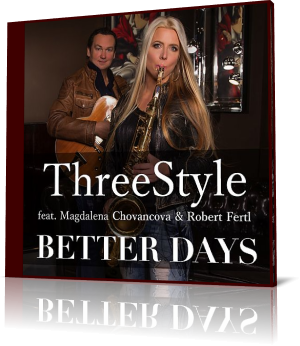 Although at home in Munich Threestyle has meanwhile the status of an International formation. Formed by saxophonist Magdalena Chovancova and guitarist Robert Fertl this musical diamond is worth listening to in any case.

For the new project both could win the following musicians: James L. Manning (bass), Lew Laing (keyboards), Gabriela Konrad (drums, percussion), Damon Dae (vocals), Tim Owens (vocals), Latonya Black Gilliard (vocals), DW3 (vocals), Ashley Sankey (vocals), Elvis Stanic (guitar) and Robert Vally (bass). From the lineup, it's easy to see that this album has its focus in the vocal realm.

The team has made a point of working out the pieces with the musicians involved. The album opens with Living In This House presenting singer Damon Dae. Dae is the featured vocalist on a total of six tracks, so it's fair to think of him as the main performer on this album. His smoky tenor voice is distinct and puts the album's emphasis on soul and R&B.

As on Just Us, Threestyle sets the instrumental framework in an extremely professional manner while Dae supports his own voice in the chorus in an overdub process. Magdalena has the opportunity to shine with short solos on her sax.

Vocalist Ashley Sankey brings variety to the mix with Hold On To Me. She is known for the R&B album Welcome to E~land from 2018. Hey Love reminds me of Frankey Beverly's Maze with whom Dae shares a pronounced radiance.

Of course, the theme of relationships and love can't be missing in this genre. Call Me tackles this subject with a great deal of emotionality. On If I Could Dae takes on the role of a crooner, accompanied by soft soprano sax and strings, delivering his message of love.

The title song calls for change and thus connecting the hope for Better Days. Everyone attaches a different idea to these words, but the music connects them all. Say A Prayer expresses gratitude that conditions are as they are. Be it a good relationship, the health or the personal security of the partner.

Come to me presents the different timbre of singer Tim "TiO" Owens. He also worked with guitarist U-Nam on the George Benson tribute album Weekend In LA and toured the world with the Al McKay Allstar's "Earth, Wind & Fire Experience" as lead vocalist.

No One Else Would Ever Do features the famous vocal trio DW3. The song sounds so professionally that I assumed it could be the cover of a megahit. This song was previously released on Threestyle's album Perfect Combination (2021).

Lovin On Next To Nothin is interpreted by vocalist Latonya Black Gilliard. No stranger to friends of the group Threestyle. Already in 2017 we could admire her on the album Smooth Ride with the songs Let's Stay Together (an Al Green cover) and Like butta.

Keep It Simple is Damon Dae's final advice for the relationship. Like Butta Baby, here it comes, the second edition of Latonya's song, known by Smooth Ride. The album closes with Time To Shine showcasing Robert Fertl and Elvis Stanic both on guitars spreading some George Benson feelings.

Threestyle offers Soul, R&B and smooth jazz on the album Better Days. A reinterpretation of the band's name. And what's even better, you can hear all the singers not only on the album, but meet them in person on Threestyle's next tour. What more could you want?




Buy the album in all stores

Album Information

Title: Better Days
Artist: Threestyle
Year: 2022
Length: 59:08
Genre: R&B
Label: Welovemusic Records


Tracks:

1) Living in this House (3:56)
2) Just us (4:41)
3) Hold on to me (3:57)
4) Hey Love (3:57)
5) Call Me (4:29)
6) If i could (4:31)
7) Better Days (4:11)
8) Say a Prayer (4:15)
9) Come to me (4:36)
10) No one else would ever do (3:57)
11) Lovin on next to nothin (4:11)
12) Keep it Simple (4:22)
13) Like Butta Baby (4:07)
14) Time to Shine (3:52)