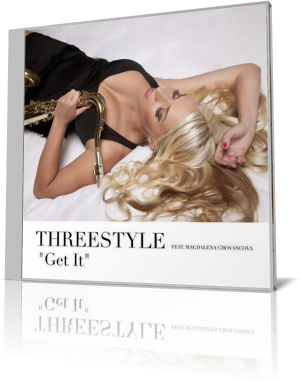 Hailing from Germany and the Czech Republic the group Threestyle featuring Magdalena Chovancova (sax), Robert Fertl (guitars, bass trumpet, flugelhorn) and Gabriela Chovancova (drums and vibraphone) delivers constantly new releases.
In 2012 they showed with Feel The Vibe good approaches. Saxophonist Magdalena Chovancova has gone with Moving Up Quickly her own way apart fashionable trends of smooth jazz. By a plurality of performances in Germany and America the band has raised awareness of the smooth jazz community.
Their newest project is entitled Get It (2014). Beside the members of the group guest musicians such as Paul Brown, James L. Manning, Walter Barnes, Jeffrey Freeman, Mike Shapiro, Michael Ripoll, Tony Jeryek, Katja Riekermann and DeZon Dobson helped to shape the sound.
With Just For Fun the group shows that they have caught up without further ado with other musicians of the genre. Perfect in sound, with the intonation on the right point and a captivating melody there is nothing to criticize. The term Straight Ahead is usually equated with the traditional jazz style. In this case Threestyle offers a mellow and cozy song with Magdalena on tenor sax in the lead.
Stories From The Reef comes with a slow tempo tune with guitarist Robert Fertl as storyteller. On Vintage Turn the band takes a turn to a more raw and rockish way. Usually is the title song the one with the greatest importance, because it's the visit card of an album. Get It presents the best sides of the group and will certainly satisfied the audience.
While On The Beach presents a balance between smooth and contemporary jazz. Soul Candy is obviously inspired by Candy Dulfer's funky music with a pinch of George Benson's guitar. Red Squirrel is looking to join forces with the soulful ballads of the 80's. Singapore Nights is emotionally touching and the melody is coherent and appealing.
The tense melody structure of Droppin The Box promises much, but isn't further elaborated. With Funky Lights the group delivers a fulminate and powerful finish with the outstanding Magdalena Chovancova and Katja Riekermann, the saxophonist of Rod Stewart. On this track both can prove their true potential.
Get It shows a clear evolution of Threestyle. The band has reached the audience.




Biography

Website


Buy the album in all stores

Album Information

Title: Get It
Artist: Threestyle Feat. Magdalena Chovancova
Year: 2014
Length: 0:46:39
Genre: General Jazz
Label: Welovemusic Records


Tracks:
01 Just For Fun [3:33]
02 Straight Ahead [4:02]
03 Stories From The Reef [4:08]
04 Vintage One [4:42]
05 Get It [3:57]
06 While On The Beach [4:40]
07 Soul Candy [4:15]
08 Red Squirrel [4:33]
09 Singapore Nights [3:54]
10 Droppin The Box [4:32]
11 Funky Lights Album Version [4:23]


Further Reviews: