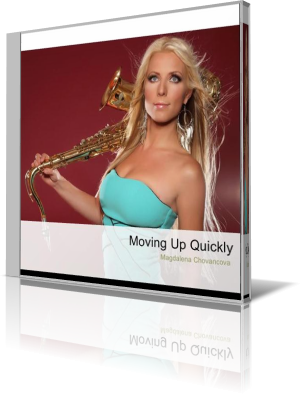 Saxophonist Magdalena Chovancova is a member of the Bavarian group Threestyle together with Robert Fertl (guitars, bass trumpet, flugelhorn) and her sister Gabriela Chovancova (drums and vibraphone).
Her releases are presented by the German label Welovemusic Records. Her newest album is entitled Moving Up Quickly (2012), certainly a motto for her solo career. This project was performed by the above mentioned group members and in addition Thomas Tiefenbacher (drums), Manfred Feneberg (percussion and drums), Markus Wohner (drums and percussion) and Tormenta Jobarteh (kora) on selected tracks.
The market for smooth jazz is strongly held among female saxophonists with Candy Dulfer, Mindi Abair, Jessy J or Pamela Williams. As a newcomer, it's hard to claim here. With Moving Up Quickly Magdalena seems to succeed.
My new sound card I have inaugurated with Easily In Love and it was worth every cent. The sound melts away as acoustic honey. On The Smoothness Of Your Skin pushes Magdalena siren calls. If you are fond of a particular melody sequence, it must be good to support it as theme song. Thanks to the perfectionism of the involved musicians Moving Up Quickly has this special format.
Six Weeks And Eight Days drifts into the realm of romance. In the middle of the song Tormenta Jobarteh contributes with the Kora an exotic sound and turns the song character h to world music. Even with What A Dub she is not looking for conformity. A popular rhythm mates esoteric contemporary jazz. Also the pairing of saxophone and harmonica with Tablas on Sax Com Mar E Sol is unusual and gives the song a southern charm.
Coming from North falls the cool Polar Rain. Pure contemporary jazz with a crystal clear soprano sax sound. As counterpart follows Andalusia Lounge featuring Fertl's warm acoustic guitar and Magdalena's smooth flute. With elitist cjazz demand also appears Mountain Vibe.
Slap Man is a tribute to the funky side of jazz. The Bosporus (or Bosphorus) divides the European part (Rumelia) of Turkey from its Asian part (Anatolia). Spring At The Bosporus describes musically the warm season and the awakening of nature at this mystical place. With El Carino Loco the album picks up pace for the last time.
With Moving Up Quickly goes Magdalena Chovancova her own way apart fashionable trends of smooth jazz. A bold undertaking in the face of strong competition.




Biography

Website


Buy the album in all stores

Album Information

Title: Moving Up Quickly
Artist: Magdalena Chovancova
Year: 2012
Length: 1:08:12
Genre: Smooth Jazz
Label: Welovemusic Records


Tracks:

01 Easily In Love [5:33]
02 The Smoothness Of Your Skin [6:17]
03 Moving Up Quickly [6:45]
04 Six Weeks And Eight Days [6:31]
05 What A Dub [5:05]
06 Sax Com Mar E Sol [6:02]
07 Polar Rain [5:50]
08 Andalusia Lounge [7:22]
09 Mountain Vibe [4:30]
10 Slap Man [4:28]
11 Spring At The Bosporus [5:07]
12 El Carino Loco [4:42]