| | |
| --- | --- |
| Archive | |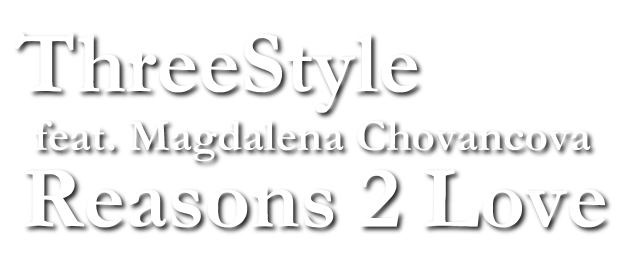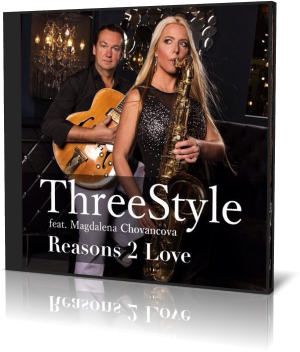 Magdalena Chovancova (sax, flute, keyboards), and Robert Fertl (guitar, bass, drum programming) are the Munich based group Threestyle. The group already released Feel The Vibe (2012), Get It (2014), Road To Montery (2016) and Smooth Ride (2017) on the label Welovemusic Records.
Their new album is entitled Reasons 2 Love (2018). Guest musicians on this project are James L. Manning, Bryant Siono, Sekou Bunch, Cecil Thomas (bass), Jeffrey Freeman, Lew Laing, Bill Meyers (keyboards), Christopher Troy (keyboards and vocals), Latonya Black, Tim Owens (vocals), Gabriela Chovancoa, Munyungo Jackson (percussion), Paul Brown (guitar), Michael Ripoll (bass, rhythm guitar), Frank Josephs, DeYou Dobsons (drums).
The constant collaboration with world-class artists shows beneficially in the playful progress of the group as already heard from Ready To Go. The musical idiom, the excellent arrangement and the playful ideas are of remarkable height. Good News spreads faster. So does this fine tune.
On Desert Moon, the vocal accompaniment of the saxophone becomes a delightful unit, even the slightly hinted stylistic change gives the piece its expressive lightness. Letīs Talk (House Party) spreads a happy party mood. Magdalena Chovancova not only perfectly masters the saxophone, but also the flute as to hear on the lovely From The Coast. The harmonies are finely tuned and elaborately enriched by Robert's guitar performance.

The group changes to another timbre on Adriatic Flow with Robert on acoustic guitar. Established on the basic theme of the title melody Reasons 2 Love, the band develops its elegant modulations. If I Could features prolific vocalist Tim Owens who breathes into the singing extraordinary emotional intensity. Bring It Up bears the signature of gifted keyboardist Lew Laing. His dynamic tension build-up is inimitable.
Mellow Times is characterized by the intensive repetition of the basic melody, from which a certain sentiment is formed. Missing You can be interpreted as an instrumental R&B ballad. Tim Owens was involved in the composition, but he did not lend his voice to the play. Also in this aspect, the title is apt. Final tune of the album is a Latin version of Desert Moon with a fine Samba rhythm.
ThreeStyle's new album Reasons 2 Love is armed with comprehensive melodies making this project a captivating winner. An incentive for any music lover to finally discover this group.





Buy the album in all stores


Album Information

Title: Reasons 2 Love
Artist: Threestyle
Year: 2018
Genre: Smooth Jazz
Label: Welovemusic Records


Tracks:
1 Ready to Go 04:01
2 Good News 03:34
3 Desert Moon 04:05
4 Letīs Talk (House Party) 04:01
5 From the Coast 03:38
6 Adriatic Flow 04:07
7 Reasons 2 Love 04:10
8 If I Could 04:31
9 Bring it up 04:15
10 Mellow Times 04:18
11 Missing You 04:01
12 Desert Moon Latin Version 04:08