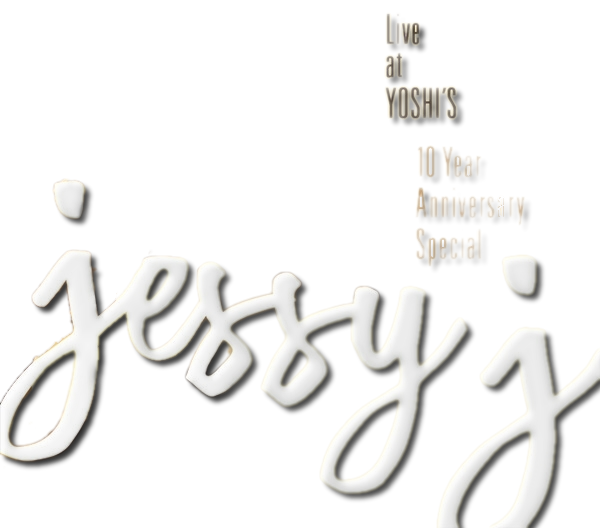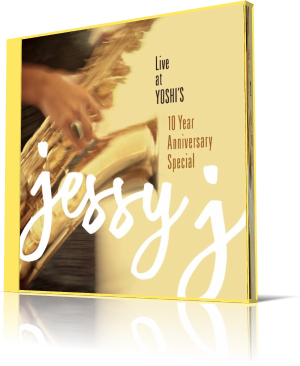 Yesterday Jason Gorov sent me Jessy J's new video of her single Despacito. A reason to take a closer look at Jessy's live album 10 Year Anniversary - Live at Yoshi's.
The CD was recorded live at Yoshi's Jazz Club in Oakland, CA on Jan 28th, 2018. This is the celebration of the 10 year Anniversary of Tequila Moon. The album was released April 2, 2018.
The live band consists of Jessy J (sax and vocals), Jay Rowe (keys), Frank Abraham (bass), Iajhi Hampden (drums), Michael Angel (guitar) and Richie Gajate Garcia (percussion).
The event starts with The Tango Boy, which was released on the album My One and Only One in 2015. This was the first single of the album featuring Paul Brown on the original. A strong show opener.
Agua De Beber is a popular song of Carlos Jobim. Originally brought to the American market with Jobim's album The Composer of Desafinado Plays (1963) this song began a triumphal procession through many albums. The fact that Jessy has chosen this song for her second tune, shows how immortal and enduring the song radiates over the decades.
All I Want is a new tune, which Jessy recorded twice, in a live and a studio version. On the studio version perform Paul Brown (guitar), Lew Lang (keys, bass, drums) and of course Jessy on sax, who also produced the song.
La Luna Feliz presents Jessy, singing the Spanish title refrain and performing on tenor sax. The song was originally recorded on her album Second Chances (2013).
Sin Ti - Without You is from her debut album Tequila Moon (2008). A true gem because Jessy shines on sax while Jay Rowe delivers an exquisite solo on his keyboards. A further highlight is the question and answer performance with guitarist Michael Angel.
Mas Que Nada was originally written and performed by Jorge Ben in 1963, and later widely known by a cover of Sérgio Mendes and Brazil 66. Jessy J's rendition fascinates with a warm young voice full of tenderness. Bass player Abraham shows his skills in a perfect solo. Of course, the title track from her debut album Tequila Moon had to be there too. These three songs in exactly this order are often played on Jessy's gigs.
On Tropical Rain Jessy gives her sax a mellow blow while the band grooves in the Samba rhythm. The song captivates with soft sax tones and Michael Angel's fantastic and authentic guitar performance.
Rainbow Gold was originally recorded on Jessy's album Hot Sauce (2011) featuring the prominent players Joe Sample, Ray Parker Jr. and Harvey Mason. Jay Rowe masters on the live version the appealing keyboard solo in a superior manner and Jessy has her best time on sax. The title song of this album serves Latin flavors in a jazzy way.
Despacito is a song by Puerto Rican singer Luis Fonsi featuring Puerto Rican rapper Daddy Yankee from Fonsi's 2019 studio album Vida. Jessy's stunning instrumental interpretation of this 2017 mega-hit has that Latin fever with Gajate Garcia fine percussion, Iajhi Hampden's drum work, an excellent salsa piano solo by Jay Rowe and for sure Jessy J in best form.
Jessy J's sax celebration 10 Year Anniversary - Live at Yoshi's should easily garner a respectful amount of attention, because she has transposed her musical personality one-to-one into this album.




Buy the album in all stores

Album Information

Title: 10 Year Anniversary - Live at Yoshi's
Artist: Jessy J
Year: 2018
Genre: Smooth Jazz
Label: Independent

1. The Tango Boy (Live)
2. Agua De Beber (Live)
3. All I Want (Live)
4. La Luna Feliz (Live)
5. Sin Ti - Without You (Live)
6. Mas Que Nada (Live)
7. Tequila Moon (Live)
8. Tropical Rain (Live)
9. Rainbow Gold (Live)
10. Hot Sauce (Live)
11. Despacito (Live)
12. All I Want (Studio Video)




Further reviews:


True Love

Tequilla Moon