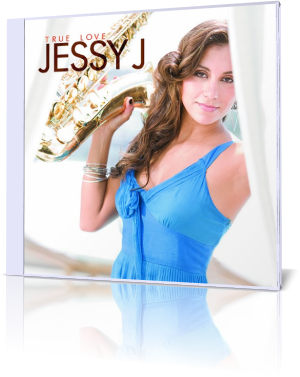 What makes Jessy J so attractive? The fact that she graduated as the "Most Outstanding Jazz Student" of her class at the University of Southern California or that she already performed with Jessica Simpson, Michael Buble, Burt Bacharach, the Temptations, and that she is currently on tour with Michael Bolton? No, it's the fantastic mix of female beauty and professional music presented by this high-talented sax player.
After the success of her debut album Tequila Moon charting on #1 for eight weeks and as featured artist in Jazziz Magazine, People Espanol, and Jazz Times Jessy generates great attention with her upcoming album True Love. Supported by Peak Records, a division of Concord Records, and with a prestigious tour schedule she's born under a lucky star and promise to continue her previous success.
Like the predecessor True Love is produced by hit maker Paul Brown and furthermore accompanied by keyboardist Gregg Karukas, bassist Roberto Vally, drummer Sergio Gonzalez and percussionist Richie Gajate Garcia.
Jessy J likes it hot. So we start in the muddy atmosphere of the Tropical Rain. Jessy gives her sax a mellow blow while the band grooves in the Samba rhythm. The song captivates with soft sax tones and Garcia's fantastic and authentic percussion. "El Pulpo" (which means the octopus in Spanish) is a sought after percussionist who has accompanied artists such as Phil Collins, Sting, Celia Cruz, Tito Puente, Diana Ross, Hiroshima, Patti Labelle, Amy Grant, Brooks and Dunn, Luis Miguel, John Denver, Art Garfunkel and many, many more.
If it ever needed a prove, Jessy delivers it with Forever. Her sax performance is sensationally enticing. A soft breeze of acoustic guitar introduce into the weaving melody of True Love. A welcoming invitation to the world of Cuban bolero. Mr. Prince is certainly an homage to the great musician, but there is no musical cite of his music. Instead Jessy celebrates her vision of smooth jazz.
Morning of the Carnival is a famous theme of the movie Black Orpheus (1959) by French director Marcel Camus. The score was composed by Antonio Carlos Jobim and became a huge success. Jessy reveals her fresh and unspent vocals in combination with her sax skills. How smooth a sax can sound demonstrate Jessy on the traditional Samba Somewhere In A Dream.
Jessy's Blues shows the more edgy contemporary site of Jessy J. Await more on her live shows! Jessy J's Llegesta Tu (You Arrived) is a captivating and uplifting pop song composed by Jessy in collaboration with Pablo and Paulina Aguirre, a couple from Quito, Ecuador, now working in the States as composer, singer and more.
An awesome duet between Jessy and Sergio Aranda is called Brazilian Dance. Very authentic and emotional. Sergio has already performed with Paul Anka, Marta Sanchez and more. Baila! is the Portuguese invitation to dance and that's the character of the song indeed.
Jessy J is the ultimate Latin answer to Smooth Jazz. This album is especially interesting and irresistible for all lovers of the Latin flavored sax.






Album Information

Title: True Love
Artist: Jessy J
Year: 2009
Length: 0:39:37
Genre: Smooth Jazz
Label: Peak Records


Tracks:

01 Tropical Rain [4:17]
02 Forever [4:09]
03 True Love [3:51]
04 Mr. Prince [3:56]
05 Morning Of The Carnival From Black Orpheus [4:00]
06 Somewhere In A Dream [4:17]
07 Jessy's Blues [3:41]
08 Llegesta Tu [3:42]
09 Brazilian Dance [3:54]
10 Baila! [3:50]



Further review