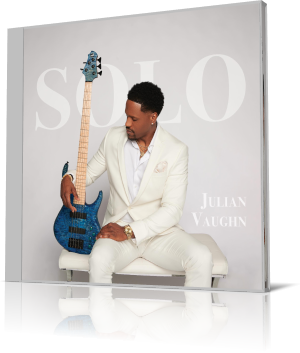 Kansas City bass player Julian Vaughn has started his solo career with The Purpose Project (2010). After his debut album, a total of five albums have followed on the Trippin' & Rhythm label. Now Julian has returned to independent status and has funded his new album Solo via an Indiegogo campaign.
The album can be purchased now through Julian's website or on Amazon. Julian has written all tracks. Most of the tunes were produced by him, Love Connection by Lew Laing, Coastin' by Adam Hawley and My Prayer by Nicolas Cole. A huge variety of other musicians have participated in his new project, which are listed in the credits.
The opener Take That comes up with punchy energy, which is supported by brass instruments. In the familiar tradition of his earlier albums, Julian leads the way with the bass.
Driving along the coast, letting the wind pull through your hair and listening to some cool music is a pleasure of a special kind. Together with sax player Darren Rahn, Julian provides on Coastin' the appropriate accompanying music. Hermosa is the Spanish word for beautiful. The aptly titled tune is entirely dedicated to Spanish flavored music.
The title Bass Trap sounds strange. Julian's bass leads us into an ingratiating embrace with Marcus Anderson's sax. The sassy and edgy Busta Move grooves with a funky attitude. If you are looking for elegant and eclectic structure, you will find it at Next Time.
Julian Vaughn comes from a deeply religious family; his grandfather was a minister, as was his father. He himself grew up in church music. My Prayer therefore not only sounds authentic but is also from his innermost soul.
Funk Yo Fusion sounds quite different in his introduction than we have known Julian so far. But it remains with this introductory quote, Julian does not turn to Jazz Fusion. Ethan Ridings provides the hooky outro on his distorted guitar. Love Connection swings the romantic chord, with the horns not missing old smooth jazz quotes.
On The Offering Julian kicks anew to the horn powered groove. Great compliment to Emmanuel Echem for his superb horn arrangement. The final tune is a tribute to Willie C. Vaughn, Julian's grandfather, who bought Julian his first bass and taught him to play the instrument. But Julian's playing style is deeply influenced by the late Wayman Tisdale.
That in mind you understand Julian Vaughn's heritage and his new album Solo. Those who loves the singing sonic bass, shouldn't miss this project.


Buy the album in all stores



Album Information



Title: Solo
Artist: Julian Vaughn
Year: 2022
Genre: Smooth Jazz
Label: Independent

Tracks:

1) Take That (4:17)
2) Coastin' (4:04)
3) Hermosa (3:52)
4) Bass Trap (4:42)
5) Busta Move (4:34)
6) Next Time (4:09)
7) My Prayer (4:11)
8) Funk Yo Fusion (4:25)
9) Love Connection (4:31)
10) The Offering (4:24)
11) Willie C (4:16)



Credits:

Mel Brown - Bass; 2,5,10
Darrel Freeman - Synth Bass: 1
Julian Vaughn - Bass: 3,6,7,8,11
Adam Hawley - Guitar: 1,2,3,5,8
Andrew Freeman - Guitar: 9
Ethan Ridings - Guitar: 6,8
Mike Hart-Guitar: 10,11
Jeremy Nixon - Keys: 3,4,6,8,10,11
Greg Manning - Keys: 1,5
Nicholas Cole - Keys: 7
Lew Laing - Keys: 9
Caleb Middleton - Keys: 2
Elan Trotman - Sax: 3
Marcus Anderson - Sax: 1,4,8,11
Donald Hayes - Sax: 6
Darren Rahn - Sax: 2
Steve Cole - Sax: 5
Emmanuel Echem - Trumpet: 1,10
Lester Estelle - Drums: 2,8,10,11
RJ Kelley - Drums: 1
Marcus Finnie - Drums: 5
Emmanuel Echem - Horn Section: 1,10