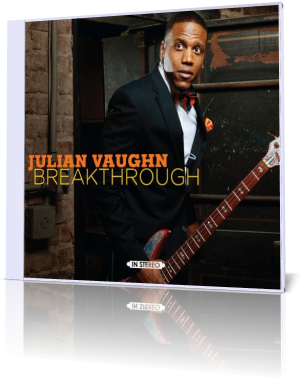 Hailing from Kansas City bass player Julian Vaughn started his solo career with his self-released debut entitled The Purpose Project in 2010. His sophomore album Breakthrough is just released at Trippin 'N' Rhythm Records, an expanding label with a heavy concentration on the smooth jazz genre.
Joining this label gave him the opportunity to show his talent on festivals such as the Seabreeze Jazz Festival, Catalina Island Jazz Festival, Big Bear Lake Festival and the Dubai International Jazz Festival. Labelmates such as Darren Rahn and Nate Harasim were supportive in producing his album.
The starting On Your Feet carries the signature of Rahn (sax) and Vaughn (bass) both impressing on their respective instrument. A certain proximity to Wayman Tisdale's style is unmistakable.
In the vein of Wayman Julian takes the lead on J's Jammin and treats the bass like a guitar. Ju Ju's Groove features as additional musician keyboardist Nicholas Cole joining Julian's affinity for heavy funk.
With The Thought Of You Vaughn breezes romance into the bass. His reflective performance is well supported by Nathan Harasim with sparkling tones on piano. With great excitement he knows to impress his audience on Breakthrough. Singer Tobbi White-Darks is his vocal standard bearer.
Vaughn worked with soul mate Anthony Saunders on the R&B song I'll Do It. Bass player himself Saunders takes over the vocal and other instrumental parts. Be My Girl is the second R&B flavored song featuring Saunders as excellent vocalist.
The Whispers have inspired with the chart-topping Rock Steady many artists such as Kylie Minogue or Paul Jackson Jr. Assisted by producer and sax player Nicholas Cole Vaughn creates a vibrating rendition. No Matter is a good example of Vaughn's main concept of song structure. With a great affinity for the R&B realm he takes the lead on bass like a singer. The songs are overall harmonious and the bass executes the melody in extensio.
The pounding beat is also a popular element in the smooth jazz. As shown up on Right On Time Vaughn cannot resist to use it. Is there anything thoughtfulness on the album? Always Be Together seems to be moving in this direction.
Julian Vaughn snatches with his album Breakthrough for popularity following Tisdale's huge footsteps. His infectious mostly self-written songs certainly have what it takes to achieve this goal.




Biography

Website


Buy the album in all stores

Album Information

Title: Breakthrough
Artist: Julian Vaughn
Year: 2012
Length: 0:46:54
Genre: General Jazz
Label: Trippin' N Rhythm


Tracks:

01 On Your Feet [4:07]
02 J's Jammin [4:16]
03 Ju Ju's Groove [4:34]
04 The Thought Of You [3:43]
05 Breakthrough [4:15]
06 I'll Do It [3:48]
07 Be My Girl [4:08]
08 Rock Steady [4:27]
09 No Matter [4:20]
10 Right On Time [4:39]
11 Always Be Together [4:39]