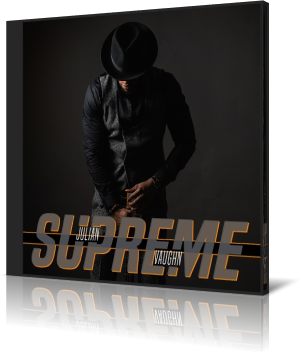 Hailing from Kansas City bass player Julian Vaughn has reached after The Purpose Project (2010), Breakthrough (2012), Limitless (2015) and Bona Fide (2017) with Supreme (2019) number 5 of his solo projects. Not just a handful but a 5 stars career.
Julian Vaughn plays on the new album bass. He is supported on selected tracks by Darren Rahn, Elan Trotman, Marcus Anderson, Donald Hayes (sax), Adam Hawley, Mike Hart, Andrew Freeman (guitar), Mel Brown (bass), Jeremy Nixon, Jeremy Thomas, Greg Manning, Lew Laing (keyboards), Nicholas Cole, Oli Silk (piano) and Anthony Saunders (vocals).
With Flash Back Friday as opening track Julian continues the glorious times of the 80's music. The bass in the lead sharing the melody with Darren Rahn on sax is a good way to get to the hit parade. The title Black Dynamite spontaneously reminds me of the original film Shaft with the film music by Isaac Hayes. Is it a coincidence that the saxophonist's name is Donald Hayes?
Sunset Station is featuring guitarist Adam Hawley who adds his own accents to Julian Vaughn's bass carried melody. On Notice cohabits the melody with equilibrium and cohesion. Donald Hayes' sax performance is a profound enrichment for Julian's streaming bass tones.
Ya Dig is inhaling the rhythm with punctual dynamic. The combination of producer Lew Laing and pianist Nicholas Cole secures the base for intoxicating music. Like Elan Trotman, Julian Vaughn is also infected by the Caribbean rhythm on Afro Calypso. Barbados native Elan Trotman is also the featured artists on Afternoon Delight.
The jazz broom driven rhythm indicates the romantic approach to the melodic theme, which saxophone and bass share harmoniously on Finally. Strut features pianist Oli Silk who can only briefly flash his great talent in a much too short solo. Come Here invites the listener to a sonic festival with warm harmonies by saxophonist Marcus Anderson and keyboardist Jeremy Nixon always Julian's bass in the lead.
The final Ready Or Not is the only cover of this album. Composed by Babyface and L.A. Reid it was the first hit of the group After 7 in 1989 on their same named album. Singer Anthony Saunders who has an impressive voice, is limited to the main refrain, while the actual theme is executed by Marcus Anderson on saxophone and Julian Vaughn on bass, giving the song a predominantly instrumental character.
The aptly titled album Supreme by Julian Vaughn has all the essential attributes a smooth jazz aficionado especially a lover of the bass awaits.


Buy the album in all stores



Album Information



Title: Supreme
Artist: Julian Vaughn
Year: 2019
Genre: Smooth Jazz
Label: Trippin' N Rhythm

Tracks:

1 Flash Back Friday (feat. Darren Rahn) 5:02
2 Black Dynamite 4:32
3 Sunset Station (feat. Adam Hawley) 4:20
4 On Notice (feat. Donald Hayes) 4:24
5 Ya Dig (feat. Nicholas Cole) 4:57
6 Afro Calypso 4:10
7 Afternoon Delight (feat. Elan Trotman) 4:23
8 Finally 5:00
9 Strut (feat. Oli Silk) 4:04
10 Come Here 4:14
11 Ready or Not 4:52