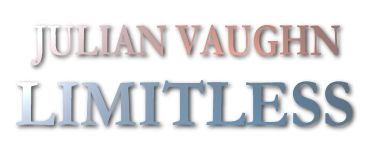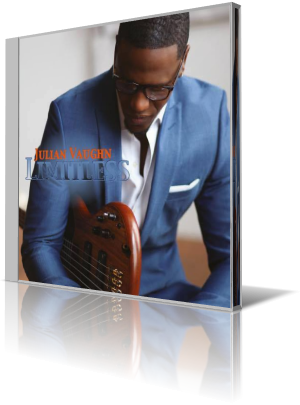 Kansas City's very own bass player Julian Vaughn convinced with his self-released debut The Purpose Project (2010), and his sophomore album Breakthrough (2012). Now he returns with his new album Limitless, which has been released on Trippin N' Rhythm Records this month.
The album features saxophonists Elan Trotman, LeBron, Darren Rahn, and Marcus Anderson, flutist Althea Rene, Nicholas Cole on keyboards, vocalists Kim Griddine & Anthony Saunders and many more.
The first track Ride Along flirts with a children's song motif. Julian and Elan Trotman are joking around and create that way the first single of the album. The interplay of bass and sax completed with a horn arrangement is also the pleasing choice of instrumentation of Initiate.
The third tune All To Myself is inspired by the R&B music of the 80's. In every sight an intimate song for lovers. The flowing Ecstacy features singer Kim Griddine in a soulful ballad. It's no secret, that Julian is walking on Wayman Tisdale's path. The signature sound of his bass is almost identical with Wayman's. Wayman's Way is his tribute to the great bass player, we all miss so deeply.
Your Mine mirrors Julian's colorful bass, which really can replace the human singing voice. On Always In My Heart the bass is the messenger of feelings. But the real strength of the bass comes in conjunction with the sax. For this plenty saxophone players ensure on this album.
Time Is Now follows this concept consequently. However, before fatigue occurs Julian ventures fortunately to other instruments. On the African flavored Limitless Althea Rene shines on flute and on I Will the human vocals share the role of a melody keeper. A typical R&B ballad with groovy harmonies.
Say Yes and Sunday mesmerizes with a fine Gospel attitude. Yes, the bass has to tell a story.
Limitless is an outstanding album of the bass as lead instrument and melody maker. Julian Vaughn's third album meets all the requirements of high standards, expected by the Smooth Jazz connoisseurs.



Biography

Album Information

Title: Limitless
Artist: Julian Vaughn
Year: 2015
Genre: General Jazz
Label: Trippin' N Rhythm


Tracks:

01 Ride Along
02 Initiate
03 All To Myself
04 Ecstacy
05 Wayman's Way
06 Your Mine
07 Always In My Heart
08 Time Is Now
09 Limitless
10 I Will
11 Say Yes
12 Sunday




Further review:


Breakthrough