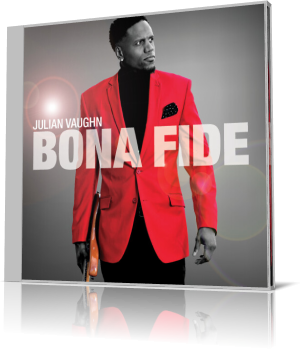 Kansas City very own bass player Julian Vaughn has already three jokers on his hand, his self-released debut
The Purpose Project
(2010),
Breakthrough
(2012) and
Limitless
(2015). Now he p
lay
s his fourth joker
Bona Fide
(2017), the third album which is released on the label Trippin' N Rhythm.
Julian performs on all tracks with the exception of
Bona Fide
bass and gathered together on selected tracks some fine names of the smooth jazz scene such as Mel Brown (bass), Adam Hawley, Matt Godina, Justus West, Gerey Johnson and Mike Hart (guitar), Nicholas Cole, Jeremy Nixon, Aaron Mayfield (keyboards), Jeremy Thomas (keyboards, organ), Elan Trotman, Marcus Anderson, LeBron Dennis and Steve Cole (sax), Lin Rountree (trumpet), Lester Estelle and Marcus Finnie (drums), Anthony Saunders and Isaac Cates (vocals).
Julian Vaughn has written most of the tracks with the exception of three songs. The album takes a fulminate start with the title song featuring Steve Cole on sax and Mel Brown on bass. Steve Cole has compiled a full program with overdub and a polished arrangement, while Mel performs the bass in a Wayman Tisdale mode similar to Julian's treatment of the bass.
When sax player Elan Trotman is involved, every song is becoming an overpowering, exuberant party.
Going Out
is pure unadulterated fun and Julian largely contributes to this effect. The sentence fragment
If I Could
can easily be completed with "I would". Musically rising keyboard star Nicholas Cole delivers the essential flow to Julian's bass driving forces.
18th & Vine
is a historic jazz district. The song embraces the rich heritage and legacy of Kansas City's African American traditions with Lin Rountree's warm bodied trumpet filling the atmosphere of ancient music treasury. On
Joy
Julian shares the lead with saxophonist Marcus Anderson tracing the flavor of old avant-garde harmonies. Jackson Five's ballad
All I Do Is Think of You,
featured on their final Motown album,
Moving Violation
(1975), is admirably interpreted by Julian Vaughn featuring KC's great vocalist Anthony Saunders.
The emotionally charged tune
Breeze
evokes a range of emotions predominantly linked to interpersonal relations. A great part of the impression is created by sax player LeBron Dennis, a name to remember. The familiar Michael Jackson single
Remember the Time
is arranged by Julian as a modern instrumental version with the bass in the lead.
You're the One
brings anew vocal wonder Anthony Saunders in the foreground. Melody and harmony are the keys of this wonderful R&B song.
Reflection
is an absolutely stunning masterpiece of performance, composition and arrangement with a gradually building tension climaxing into a touching finish.
I Wanna Love You
is built around a sonic vocal core, while the bass is carrying the load. A soulful ballad with a memorable colorful and harmonic feeling.
In the world of bass a musician has to achieve his unique conceptual and technical approach. On
Bona Fide
Julian Vaughn has found his place performing the bass with solid harmony and great personality. Bass as melody carrier in the lead is nothing new but Julian has developed his style to masterful perfection.