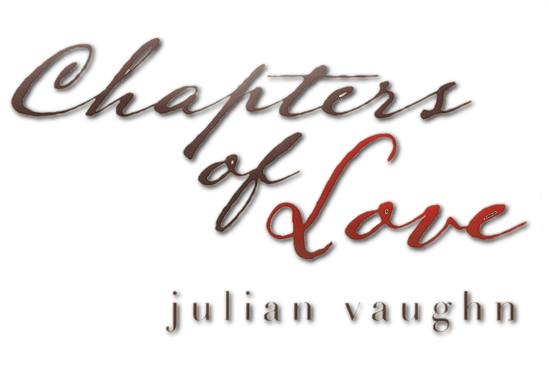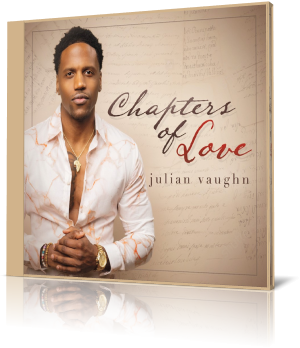 Hailing from Kansas City bass player Julian Vaughn already presents with Chapters of Love his sixth album on the precious label Trippin Ní Rhythm Records. The album came out just before Valentine's Day and how could it be otherwise, the whole album revolves around the theme of love.

Julian has written all songs with one exception and impresses again with deep inspiring grooves. Although Julian is foremost a bass player, he in in his own words takes pride in being able to write and produce most of his music. However he is joined on his new album by a large number of musicians listed in detail in the credits.

Starter of the album is the luscious single Sway. The song features saxophonist Donald Hayes who enters into an intense dialogue with Julian's bass. Donald's newest project is his solo album Front Ground (2016).

On Waiting For You Julian shows his silky smooth side and elicits tender sounds from his bass. On Over & Over Julian unites his bass sound again with Donald's sultry sax to the sweetest soul-stirring melody one can imagine.

With Someone To Love Julian continues his voyage into the waters of interpersonal feelings. The song was originally composed and performed by Babyface and Jon B. as a soundtrack of the movie Bad Boys (1995).

Amore is the Italian word for love. While Julian stylized the melody on his bass, Andrew Freeman delivers the grounding rhythm on guitar. The final notes meander into childhood memories. The title Hotel Lover has the air of piquancy. In the end, the song turns out to be a gentle love ballad.

Loving You surprises with a full-bodied groove that invites you to swing your hips. Julian sings in a duet with Khalea Hayes. Her voice is compared with Anita Baker and Whitney Houston. On top the song is crowned by saxophonist Marcus Anderson.

Romance The Rain features Elan Trotman on sax. The special facet of this piece, however, is the chorus effect that Julian creates on the bass by way of overdubbing. The emotional Her Peace finds Julian in a question and answer performance with pianist Nicholas Cole.

A Feeling circulates with clear melodic effect the core of human sentiments. Julian fills up the whole range of his lead instrument with his bass and Marcus can just set fine accents on the sax. The final Steps To My Heart intertwines Julian's bass with Lin Rountree's trumpet performance in a heart touching mode.

Julian Vaughn interprets on Chapters Of Love his instrument of choice as melodic messenger and the message arrived successfully. Rarely does one encounter a bass player who reaches the hearts of listeners with such empathy.



Biography

Album Information

Title: Chapters Of Love
Artist: Julian Vaughn
Year: 2021
Genre: Smooth Jazz
Label: Trippin' N Rhythm


Tracks:

1) Sway (4:29)
2) Waiting For You (4:15)
3) Over & Over (4:41)
4) Someone To Love (4:23)
5) Amore (3:52)
6) Hotel Lover (4:35)
7) Loving You (4:29)
8) Romance The Rain (4:49)
9) Her Peace (4:14)
10) A Feeling (4:31)
11) Steps To My Heart (4:05)



Further reviews:


Breakthrough

Credits:

1 Sway Feat (Donald Hayes)
Written By: Julian Vaughn
Produced By: Lew Laing
(Jv Productions/ Ascap)

2 Waiting For You
Written By: Julian Vaughn
Produced By: Lew Laing
(Jv Productions/ Ascap)

3 Over & Over
Written & Produced By: Julian Vaughn
(Jv Productions/ Ascap)

4 Someone To Love
Written By: Babyface
Produced: Julian Vaughn, Anthony Saunders
(Jv Productions/ Ascap)

5 Amore
Written By: Julian Vaughn
Produced By: Lew Laing
(Jv Productions/ Ascap)

6 Hotel Lover
Written & Produced By: Julian Vaughn
(Jv Productions/ Ascap)

7 Loving You
Written & Produced By: Julian Vaughn
(Jv Productions/ Ascap)

8 Romance The Rain
Written & Produced By: Julian Vaughn
(Jv Productions/ Ascap)

9 Her Peace
Written & Produced By: Julian Vaughn
(Jv Productions/ Ascap)

10 A Feeling
Written & Produced By: Julian Vaughn
(Jv Productions/ Ascap)

11 Steps To Your Heart
Written & Produced By: Julian Vaughn
(Jv Productions/ Ascap)


Musicians

Mel Brown-Bass: Ch 5
Julian Vaughn-Bass: Ch 3, 4, 6, 7, 8, 9, 10, 11
Adam Hawley-Guitar: Ch 4, 8, 9,
Mike Hart-Guitar: Ch 3, 6,
Matt Godina-Guitar: Ch 11
Joey Woolfolk-Guitar: Ch 10
Andrew Freeman-Guitar: Ch 2, 5,
Jeremy Nixon-Keyboards: Ch 3, 4, 6, 7, 8, 9, 10, 11
Lew Laing-Keyboards: Ch 1, 2, 5
Nicholas Cole-Piano: Ch 9
Donald Hayes-Sax: Ch 1, 2, 3, 6,
Elan Trotman-Sax: Ch 4, 8
Marcus Anderson-Sax: Ch 7, 10
Anthony Saunders-Vocals: Ch 4
Khalea Hayes-Vocals: Ch 7
Julian Vaughn-Vocals: Ch 7
Lin Rountree-Trumpet: Ch 11
Marcus Finnie-Drums: Ch 9


Mixed By: Alan Litten (Room With A View Studios) & Julian Vaughn
Mastered By: Joe Yannece
Photography: Daniel Smith For Righteous Image Media