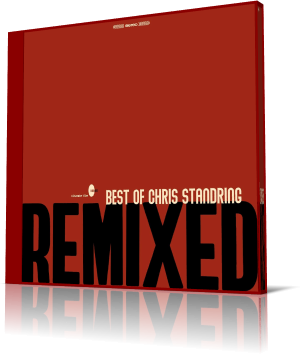 Actually guitarist Chris Standring didn't want to release a best-of album, because in his opinion every interested fan can download his music individually. One then came up with the idea of releasing remixed versions. Chris was immediately taken with this idea. He commissioned the producers Rodney Lee and Matt Cooper, and Chris himself set to work to include pieces he thought worthy in this collection.
The pieces were not simply remixed, but re-recorded by the musicians involved. If you want to compare the original recordings with the newly recorded ones, it's not made that easy. The starting track Stop It (Mercury Mix 2019) for example was taken from Chris first album, released in 1996 under the band name Solar System featuring Chris Standring, keyboardist Rodney Lee and lyricist C.R.A.S.H.. Dino Soldo performed the sax on the original. That was the high time of acid jazz. The new version is more upbeat, the rhythm more powerful, one notices the routine of the last twenty years.
Fast Train To Everywhere was originally recorded on the album Blue Bolero (2010). The original orchestral approach featuring Barbara Porter's string orchestra is only hinted and abandoned in favor of the main motif on the Jupiter Mix 2019. Those who prefer the original can listen to an alternative recording on the album Live In London (2017).
Bossa Blue on Blue Bolero has a swinging swaying Bossa rhythmus, which is recommendable as background music for relaxed holiday scenarios. The Outside Mix 2019 starts after the intro to a thrilling and compelling Matt Cooper breakthrough. Chris increases the tempo of the main theme into brute virtuosity.
Kaleidoscope is the only track presented on this album with two versions. Originally released on UK's Trippin' N' Rhythm record label in 2006, Chris re-released Soul Express in 2018 again. The Neptune Mix 2019 has lost none of the timeless elegance of the original.
Liquid Soul is a track from the album Love And Paragraphs (2008), a dreamy melody created by Chris on guitar, keyboards, synth bass and smooth strings. The Venus Mix 2019 is throwing the dreaming over board into Rodney Lee's pushing synth waves.
Pandora's Box (Electric Wonderland) is a Greek artifact, which contained all the evils of the world. With a twinkling eye, Chris has chosen a title that is more like the opposite of what he lets us come good. Mellow but still funky creeps his guitar sound into our brain. The Saturn Mix 2019 slightly turns down the tempo just to celebrate the theme on Rodney's Rhodes.
Sneakin' Out The Front Door (Don't Talk, Dance!) comes with gentle wah-wah guitar music, later modified by a Talking Box served on a shuffle beat. Don't miss the sexy video of this track on YouTube. The Earth Mix 2019 is grounded by a deep bass, together with the Talking Box we have a funky hit.
Soul Express in the Love Mix 2019 version differs from the original in the first place by an altered basic rhythm, which increasingly capers to the Tom Toms.
Oliver's Twist (Electric Wonderland) builds on the current fashion trend of European lounge sound. Contemporary entertainment with a hip shuffle beat. A remixed and extended version is available as downloadable bonus track for all visitors of Chris' website. The Outside Mix 2012 delivers subtle modifications like a pronounced bass and an extensive keyboard solo by Matt Cooper
Constellation (Galaxy Mix 2018) delivers another view on the theme of Constellation, the third tune from the album Soul Express.
Ready Steady Flow starts the album Ten (2016) with a memorable hooking groove, which unmistakably sets this guitarist on the forefront of the smooth jazz genre. He combines a catchy rhythm with classy talk box and his resounding Benedetto Bambino archtop guitar. Don't miss the remarkable video of this song featuring model Shasta Wonder. The (Outside Mix 2019) opens the dance hall for a striking reggae styled remix. Jim Knight adds some impressive saxophone accents.
Final tune is a variation of Kaleidoscope (Cake Mix 2019). Just because of this piece is worth the purchase of the album. A catchy tune in a class of its own featuring Chris Standing (guitar, organ, percussion), Pete Adams (acoustic piano), Geoff Gascoyne (upright bass), and Ralph Salmins (drums).
Chris Standring convinces with twelve arguments every listener of his Best Of album. What he creates with great passion and virtuosity underlines his outstanding position in the smooth jazz scene. Contemporary jazz aficionados will simply adore these masterpieces.





Buy the album in all stores

Album Information

Title: Best of Chris Standring Remixed
Artist: Chris Standring
Year: 2019
Genre: Smooth Jazz
Label: Ultimate Vibe Records

Tracks:

1. Stop It! (Mercury Mix 2019)
2. Fast Train To Everywhere (Jupiter Mix 2019)
3. Bossa Blue (Outside Mix 2019)
4. Kaleidoscope (Neptune Mix 2019)
5. Liquid Soul (Venus Mix 2019)
6. Pandora's Box (Saturn Mix 2019)
7. Sneakin' Out The Front Door (Earth Mix 2019)
8. Soul Express (Love Mix 2018)
9. Oliver's Twist (Outside Mix 2012)
10. Constellation (Galaxy Mix 2018)
11. Ready Steady Flow (Outside Mix 2019)
12. Kaleidoscope (Cake Mix 2019)



Further reviews:

Shades of Cool

Groovalicious

Love and Paragraphs

Send Me Some Snow

Ten

Don't Talk, Dance!