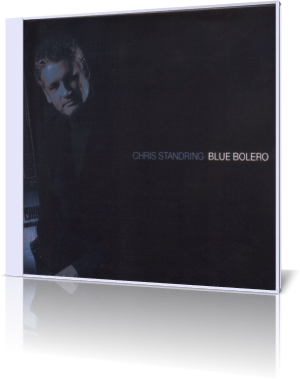 Thanks to the benefit of a subscription to Chris Standring's newsletter I can announce glad tidings about the nearly arrival of his new album Blue Bolero, which will be released on his label Ultimate Vibe Records on March 2nd 2010. The first single will be out in February.
According to Chris Standring's liner notes he wanted to make a project with musical elements that reflect his musical training, influences and cultural surroundings. The music here is based around several themes and represents a very reflective mood throughout. Chris adapted structures and themes of classic masterworks and brilliantly melted them into his own song literature and melodies.
Orchestral samples are the magic word and the devoted support of musicians like Dave Karasony (drums), Larry Steen (acoustic bass), Barbara Porter (violin), and guest musicians like Rodney Lee (Fender Rhodes), Eric Valentine (drums), Katisse Buckingham (flute), Andre Berry (bass), Dewayne "Smitty" Smith (bass), Tim Landers (bass), Rico Belled (bass), and Mitch Forman (Fender Rhodes).
Following the structure of a symphony Chris Standring starts the album with Overture. In the style of Benjamin Britten's Simple Symphony pizzicato violin chords are introducing into Chris Standring's guitar performance. Then the strings are coming in. After this classical introduction the guitar play transforms to a jazzy escapade. Rodney Lee brings in a great solo on Fender Rhodes accompanied by Dave Karasony on drums. Since George Duke's Muir Woods Suite is this a very innovative and outstanding project melting jazz with symphonic elements.
In the spirit of Ravel's Bolero presents Chris the classic piece Blue Bolero with jazzy guitar overtones. "It has been my ambition for many years to record an album with an orchestra," says Standring. "I also wanted to take a major left turn musically on this album, and as soon as I started messing around with orchestral samples, the drive to realize this project became much bigger than me." According to the liner notes only Barbara Porter plays violin. So this is a symphonic wonder of advanced studio technique.
Please Mind The Gap, the title is a term of the London Underground train system, is an internet project, which is typical for the interaction of contemporary musicians. Andrey Barry and Eric Valentine's parts were recorded in Newhall, Katisse Buckingham recorded in his home studio and the rest in Standring's studio. The tracks of the extern musicians were sent in by email. Perfectly mixed and arranged. Katisse's performance on flute is absolutely stunning.
The peaceful Contemplation is the right place for relaxation and recreation. Unwind yourself from work and the difficulties of life. The laugh of children, sweetness in the air, harmony. When we talk about intelligent arrangement and expert playing, Sensual Overload is a good example. Master of all guitars Standring shines with a sublime understatement accompanied by famous Dewayne "Smitty" Smith on bass.
Regarding Tetchwick is a solo-guitar interlude like Contemplation giving some time for a breath. When you just love the sound of guitar, this is for you. Fast Train To Everywhere is the ideal movie score for a drive by train with Barbara Porter's string orchestra, the snare brush rhythm and Standring's excellent guitar journey.
The guitar-solo interlude On Second Thoughts puts with mellow tones in mood for the following Sunrise. An emotional impression of that time between night and day. This mixture of classic Bossa Nova style and dynamic percussion combined with strings and Standring's guitar on Bossa Blue should do the hook. While the more orchestral approach on Lost In Angels will equally draw groove-desiring smooth jazz and classic fans.
Apart from the previous concept stands March Of The Bowler Hats taking out a loan from acid jazz and pop history (Alan Parsons Project). Phenomenal as usual Mitch Foreman on Fender Rhodes. Mitch, we are waiting for the next Metro album. At The End Of The Day is another contemplative piece, on which Chris immaculately takes command over his instrument following his own lessons. On Finale (Bolero Reprise) Chris sets the last signal for all listeners. Be lost in my music.
Christ Standring's impetus is to create an unique sound, that everybody can identify him after listening to his music. Generate something new and unheard. With Blue Bolero he has recorded that landmark in the over saturated music industry which will make him audible for the audience.



Buy the album in all stores


Album Information


Title: Blue Bolero
Artist: Chris Stranding
Year: 2010
Length: 1:02:36
Genre: General Jazz
Label: Ultimate Vibes Records

Tracks:

01 Overture [8:06]
02 Blue Bolero [5:12]
03 Please Mind The Gap [5:29]
04 Contemplation [4:44]
05 Sensual Overload [4:10]
06 Regarding Tetchwick [2:11]
07 Fast Train To Everywhere [4:27]
08 On Second Thoughts [0:58]
09 Sunrise [3:43]
10 Bossa Blue [4:41]
11 Lost In Angels [5:16]
12 March Of The Bowler Hats [4:36]
13 At The End Of The Day [4:18]
14 Finale (Bolero Reprise) [4:47]


More reviews:
Love and Paragraphs