| | |
| --- | --- |
| Archive | |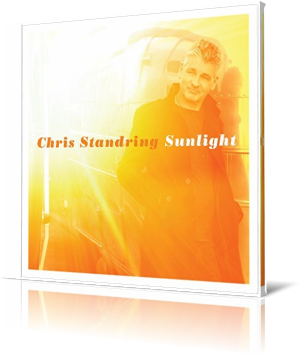 Guitarist Chris Standring has already received a variety of positive reviews. All critics agree that his music is innovative, captivating and always reinventing itself. His high recognition value is confirmed by the high attendance of his notable concerts. His newest album, Sunlight, is exactly on this success line.
Among the valuable artists are Rodney Lee (guitar), Andre Berry, Jimmy Haslip (bass), Chris Coleman, David Karasony (drums), Mica Paris (vocals), John Novello, Bob James (piano), Roberto Vally (upright bass), Peter Christlieb, Brandon Fields (sax), Hans Zermulen (keys). Chris Standring performs on this album guitars, keyboards, programming and arranging.
The first tune Static in the Attic awakes the memory of magic Acid Jazz. This blend of jazz riffs with acid sounds reminds of the late guitarist Ronny Jordan who spearheaded the Acid Jazz movement in the early 1990s. Aphrodisiac is a libido increasing substance. Standring proves that even music can have an intoxicating effect.
With Love Street Chris returns to the smooth side of his personality which has also always an encouraging element. Chris Standring and Bob James know each other from different live performances. Revisit is the first time they have recorded a song together. They generate on this song a feeling of togetherness, a feeling of unity, that becomes a vital current of identity.
No Explanation features attractive UK based soul singer Mica Paris whose voice has a certain similarity in timbre to jazz singer Maysa. God Only Knows is a song written by Brian Wilson and Tony Asher and first performed by the Beach Boys on their album Pet Sounds. The beauty of this everlasting melody unfolds on Chris' guitar as naturally as a blooming flower.
I have often used the term easy going. But Like Paradise is predestined for this adjective. Moon Child is the only tune, on which Chris performs all instruments without any other musician. He is a master of his métier. Those who not only love guitar but also a superbly arranged piece with brass and organ will get their money's worth at Do Not Adjust Your Set.
The Principle of Pleasure includes an intimate set of bassist Jimmy Haslip, keyboardist Hans Zermulen and drummer David Karasony united with Chris in the joy of fusion jazz. Final tune is a reprise of Static in the Attic with Vocoder at work.
With Sunlight guitarist Chris Standring gives a master class on what jazz guitar is all about. This versatile guitarist has developed a brilliant style across the jazz spectrum of acid jazz, smooth and fusion jazz.







Buy the album in all stores

Album Information

Title: Sunlight
Artist: Chris Standring
Year: 2018
Length: 0:47:19
Genre: General Jazz
Label: Ultimate Vibe Recordings


Tracks:
1 Static in the Attic 4:49
2 Aphrodisiac 7:42
3 Love Street 3:42
4 The Revisit (feat. Bob James) 6:52
5 No Explanation (feat. Mica Paris) 3:55
6 God Only Knows (feat. John Novello) 4:12
7 Like Paradise 3:49
8 Moon Child 4:27
9 Do Not Adjust Your Set 5:20
10 The Principle of Pleasure 4:33
11 Static in the Attic (Reprise) 0:53



Further Reviews:

Shades of Cool

Groovalicious

Love and Paragraphs