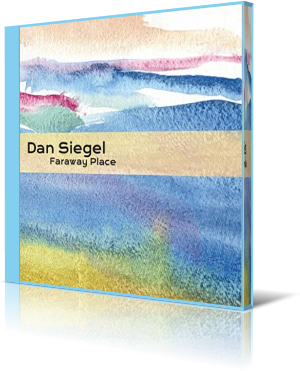 Each musician has a different approach to dealing with the aftermath of the pandemic. Common to many is Dan Siegel's concept of recording a new album while stopping all performances. Siegel's 22nd recording is Faraway Place scheduled for release July 31, 2021.
Most parts of the album were recorded by the musicians in their respective home studios. However, the rhythmic foundations were laid by drumming legends Steve Gadd and Vinnie Colaiuta at East West Studios in LA. From the credits you can see the numerous jazz greats who have contributed to this project.
The title of the album illustrates the unreality of the situation and the difficulty of processing it psychologically. After all, for our generation, this form of pandemic and its drastic accompanying circumstances is something completely new that needs to be overcome with. Isn't it gratifying then to be able to hold on to music that brings familiar things back to you. With Old School, Dan Siegel takes us again to safe ground.
The emotional Sentimental Story conveys to us the island of peace and tranquility. The swinging rhythm and cozy harmony without excitement expects nothing from us except our attention. Tried and True brings the energetic impact, with Dan Siegel's purposeful piano performance powerfully supported by the horns.
On Something You Said Dan introduces the accordion as a special sound color, rather as an adjunct to the piano, which dominates the sound on the album without restriction. Curves Ahead gets its powerful effect from the skillful use of winds, percussion and organ.
To subdivide by the flow of the play, Dan views Faraway Place as a sanctuary that provides peace and relief from the threats of the pandemic. Some Time Ago grants a look back to the times when everything was supposedly better. Folkloristic almost choral elements deepen this impression.
Vocalist Rogerio Jardim takes Bluebird to a new level, a song that pulses on classic harmonies. Your Smiles comes with classic appeal of a baroque string quartet. One wonders if Dan has been infected by Lenny Castro's percussion in his piano playing on Looking Up. The end song Once Again can be understood as a summary of everything good on the album.
With Faraway Place, Dan Siegel remains true to himself and his music. Artistic integrity is not played but lived on this album.



Biography

Website


Buy the album in all stores

Album Information

Title: Faraway Place
Artist: Dan Siegel
Year: 2021
Length: 0:43:17
Genre: Smooth Jazz
Label: DSM


Tracks:
1) Old School (4:17)
2) Sentimental Story (4:27)
3) Tried and True (4:40)
4) Something You Said (3:41)
5) Curves Ahead (3:57)
6) Faraway Place (4:07)
7) Some Time Ago (4:20)
8) Bluebird (3:16)
9) Your Smile (2:19)
10) Looking Up (3:54)
11) Once Again (4:14)





Further reviews:


Sphere

Departure

Fables

Origins



Credits:

Piano, Keyboards, Accordion: DAN SIEGEL
Guitar: ALLEN HINDS
Acoustic Bass: BRIAN BROMBERG
Electric Bass: ABRAHAM LABORIEL (3, 7, 10), DWAYNE "SMITTY" SMITH (5)
Drums: VINNIE COLAIUTA, STEVE GADD (2, 9), OMARI WILLIAMS (5)
Percussion: LENNY CASTRO
Trumpet, Trombone: LEE THORNBURG
Saxophone: ERIC MARIENTHAL
Vocal: ROGERIO JARDIM (8, 9)
Violin: CHARLIE BISHARAT
Cello: JACOB BRAUN English Horn: CHRIS BIETH Bassoon: DAMIAN MONTANO
Hymn Choir: TOM McCAULEY, ALLEN HINDS, DAN SIEGEL (7)