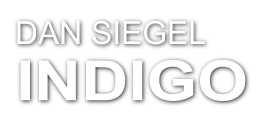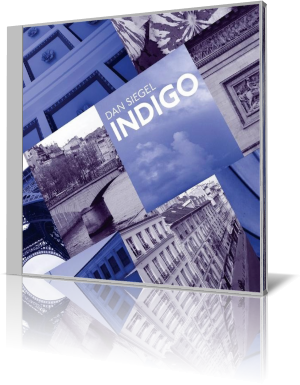 Indigo is the color of blue jeans. As intense as this color is the expressive music of the gifted pianist Dan Siegel. With his 20th album, he has introduced much of his rich musical experience.
As with his earlier works Siegel has again collaborated with bassist Brian Bromberg, who co-produced the album and also brought in his bass. Further participating musicians are Bob Sheppard (sax), Allen Hinds (guitars), Will Kennedy (drums), Craig Fundyga (vibraphone) and Lenny Castro (percussion). Additional musicians shared the recordings on single tracks.
The title of the first track To Be Continued signals the continuity to his earlier albums. With Alan Kaplan (Euphonium), Stan Martin (flugelhorn) and Stephanie O'Keefe (horn) Siegel provides an orchestral background, which reminds atmospherically of the music of Pat Metheny.
By Chance may be an inappropriate title if one knows in which almost manic way Dan polishes at each of his pieces. You will find a clearly structured piano work that builds continuously. Indigo allures with a splash of bottleneck guitar before it turns into a great contemporary jazz momentum.
The love for melody is reflected in the charming Beyond. The guitar in Country style gives the song a homey character. This dreamy effect continues with the lyrical Far and Away. If Ever prefers the percussive side with a special Latin twist. Spur of the Moment introduces into a jazzy swing with a powerful horn arrangement. Lee Thornburg and Steve Torok deliver fine brass on trumpet and valve trombone respectively tenor saxophone.
First Light has something solemn Christmassy and is found in line with some hymns. The album was released in December. Consider This also has something of this inner contemplation. Endless is the elite acoustic finale with a good-tempered Brian Bromberg on bass and Will Kennedy in full movement on drums.
With Indigo Dan Siegel presents a superior contemporary jazz masterpiece with a highly personal mark. Unique in melody, instrumentation and arrangement.



Biography
Album Information
Title: Indigo
Artist: Dan Siegel
Year: 2014
Length: 0:47:03
Genre: General Jazz
Label: Dan Siegel Music


Tracks:
01 To Be Continued [5:06]
02 By Chance [5:25]
03 Indigo [4:15]
04 Beyond [3:49]
05 Far and Away [4:42]
06 If Ever [4:58]
07 Spur of the Moment [4:28]
08 First Light [4:31]
09 Consider This [4:46]
10 Endless [5:04]