Dan Siegel – Sphere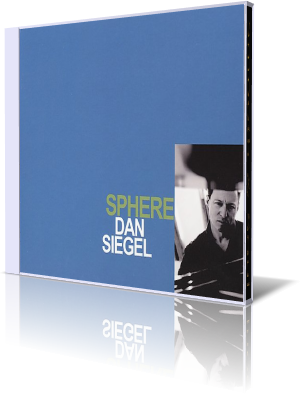 Dan Siegel defines himself as musician with no limits. Although some of his albums like Inside Out (2004) and Departure (2006) can be classified as smooth jazz, Dan is not the typical smooth jazz artist. This is easily to explain with his rich musical history which he recently portrayed in his album Fables (2008).
But Dan Siegel doesn't stay in the past and so he does what he loves to do, creating and performing new musical ideas. Since 1983 he lives and works in L.A. and so it's only natural that he collected for his new album Sphere top-notch musicians of the L.A. scene like Allen Hinds (guitar), Brian Bromberg (acoustic bass), Joel Taylor (drums) and Lenny Castro (percussion). Guest musicians on his albums are Larry Carlton (guitar), Bob Sheppard (sax), Alex Al (bass), Darrell Crooks (guitar), Gary Meek (sax) and Tom Scott (sax).
Dan and Brian Bromberg produced the album in the B2 studios in North Hollywood. Like on his previous album Departure Dan Siegel intends to create music based on the fundamental ensemble of the jazz piano trio and with an organic acoustical structure. That's the reason for his renewed collaboration with Brian Bromberg. But Dan also intensifies groove and energy on his new album. All compositions are written by Dan Siegel except the first tune which he co-wrote with Brian Bromberg.
What Goes Around has the spirit of the contemporary jazz of the 80's we missed so long. I would compare Dan Style with pianists like David Benoit and Bob James. Bob Sheppard on sax and Larry Carlton are transforming Dan's ideas to a magic level.
Dan's Good Fortune follows a clearly composed melody but offers also Allen Hinds' premier guitar solo. In the second part of the song Alex Al adds his peppered bass signature. The title tune is improved by Brian Bromberg's acoustic bass. Dan's sophisticated musical walks are amazing and tickle ears and mind.
The elegant Gypsy features Charlie Bisharat on violin. Charlie has performed on records of Tracy Chapman, Mark Isham, Yanni, John Tesh, Al Stewart, Don Gruisin and many more. With the formation Shadowfax he won a Grammy Award. On this tune he sees himself in the role of the legendary Django Reinhardt.
With Then And Now Dan Siegel enters the known territory and style compared to the likes of Richard Clayderman or David Foster. Dan has a strong sensibility for great melodies. He has no shy to brilliantly combine jazzy and melodious elements as he showcases with Sometime Tomorrow.
But his real home are themes which seemed to be created in the 50's like No Regrets. Is style flourishes, when he leaves the path of melody to improvise in a nonchalant way only a genius pianist can call one's own. Conundrum is a riddle whose answer is or involves a pun. And like that Dan delivers the answer for his ornate song.
On the romantic tune If Not Now Dan dives deeply into his piano keys while Allen Hinds reveals his profound guitar skills. Wishful Thinking features Gary Meek in Dan's finishing contemporary jazz jam session.
If the term contemporary jazz wouldn't exist, he should be invented for Dan Siegel's music. He walks his own way off the beaten track of the typical smooth jazz. Sphere is intelligent melodious jazz with New Age influence but foremost Dan's immeasurable personal musical creation.




Album Information

Title: Sphere
Artist: Dan Siegel
Year: 2009
Length: 0:46:14
Genre: General Jazz
Label: Dan Siegel Music


Tracks:

01 What Goes Around [5:33]
02 Good Fortune [4:14]
03 Sphere [4:35]
04 Gypsy [4:03]
05 Then And Now [4:01]
06 Sometime Tomorrow [4:42]
07 No Regrets [5:35]
08 Conundrum [3:44]
09 If Not Now [4:55]
10 Wishful Thinking [4:53]