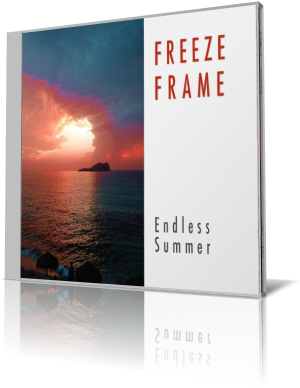 Lincoln Park - The Best Of Freeze Frame should be a crowning end to his life's work. A carefully selected compilation of the defining pieces of his varied albums as a statement and key to discover his opuses.
The cat cannot stop chasing mice and the musician cannot stop creating new music. Ray Bach comments: "While one might remember that I have announced that I have to stop future releases that create a massive effort I have to admit that I can't help myself here."
That said Ray Bach aka Freeze Frame presents his newest project Endless Summer (2017) with the title "the last album". Ray has written, performed and produced all tracks. Further musicians on selected tracks are Tom Farmer (sax), Jan Hiltman (guitar), Stefan Gade (bass) and LIZA (vocals).
The new project begins with Endless Summer indication the new direction of playful easiness. We connect with this season the lightness of being and the never ending fun of easy life. Ray Bach embodies these feelings with this song featuring singer LIZA in melodious notes.
The term Happy Hours is usually associated with a short period of time of lucky entertainment with discounts on alcoholic drinks. With a bubbly synth sound Ray follows the traces of happiness. Sax on the Beach nicely fits into the Ibiza beach scenery pushing the proactive omnipresence of saxophonist Tom Farmer to the forefront.
Pure holiday pleasure continues on the dynamic Terrace View (Delfin Playa Mix) with the main weight on atmospheric and percussive phrases. Hovering keyboard sounds lay the foundation for Blue Touches Red (Sunset Mix) flooding in multicolor the auditory canals.
Take a theme like on The Pulse Of '13, add a groovy rhythm and then run the harmonic overdrive. The title Made with Nine raises questions. Did Ray create the song in a young age of nine years or did he just use 9 notes to express his thoughts? Only Ray can give the right answer.
Myths are surrounding the Mount Abora in South Africa. Don't await ambient sound here, Ray's tune tends to Electro pop. A Night with Amnesia is the result, when you are dancing hours over hours on the dance floor blending totally in the hypnotic music. Behind the Moon lies the hidden, of which one does not know what to expect. One of those New Age pieces with uncertain outcome.
Celebra La Vida revels in a colorful Spanish-folkloristic joy of life with guitar, piano and organ in the foreground. The Warm Light features guitarist Jan Hiltman with a cozy introduction that soon changes into a pulsating synth sound and distorted guitar chords. Blue Horizon offers a shorter piano/synth tune accentuated with a syncopated punch of wave flavors.
Moving on to New Pastures is a positive tempered piece which reflects the infinite variety of the world and the cheerful minded travellers. Celebra La Vida... Reprise takes the original theme again for a final farewell.
Endless Summer is an unmistakable sign for Ray Bach's unbroken creative power. A further artistic triumph in the long lasting career of Freeze Frame.




Buy the album in all stores

Album Information

Title: Endless Summer
Artist: Freeze Frame
Year: 2017
Genre: Smooth Jazz
Label: Laterne Tonträger

1 Endless Summer 4:41
2 Happy Hours 3:53
3 Sax on the Beach 3:58
4 Terrace View (Delfin Playa Mix) 4:06
5 Blue Touches Red (Sunset Mix) 5:00
6 The Pulse Of '13 3:54
7 Made with Nine 3:35
8 Mount Abora 4:40
9 A Night with Amnesia 3:41
10 Behind the Moon 4:13
11 Celebra La Vida 3:12
12 The Warm Light 4:40
13 Blue Horizon 3:39
14 Moving on to New Pastures 3:50
15 Celebra La Vida... Reprise 1:47


Further reviews:


Transition

Colors Of Summer

Lincoln Park - The Best Of Freeze Frame