Freeze Frame Colors Of Summer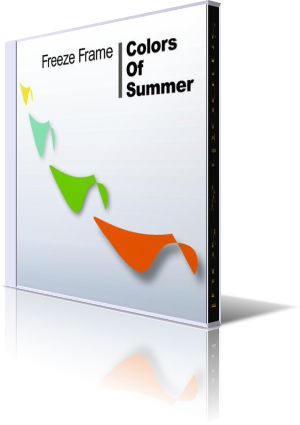 Ray Bach better known under his project-name Freeze Frame started his career with the legendary debut album The Book of Moviescores (1989), which was released on IC Digit in 1991. He stayed connected with this label in the following years with The Crossover (1992), Loving Life (1994), Feelin' So Good (1996), and A Balanced World (1999).
After a long hiatus he returned in 2006 with his album Transition now followed by the album Colors Of Summer (2009). Ray Bach has written and performed all tracks. Further supporting musicians are Stephan Gade (guitars), Lars Slowak (bass) and Niels Karsten (trumpet). Ray Back's style belongs to the fields of smooth jazz, new electronic and Pop. He is a representative of the European smooth jazz with a slight but significant difference to the American Urban influenced approach.
The starting tune Silver Sunrise enjoys with a full sounding well arranged theme revealing Ray's signature sound and equipment. Ray's affinity to synthesizers, keyboards and piano shows his great perspective and skills.
Out of his tradition and heritage of New Age one understands his interpretation of smooth jazz with a great love to musical details like on Sunny Yellow Awakenings. All titles have a highly imaginative relationship to colors as the title of the album indicates.
Shades of Orange offers a combination of a flowing melody with funky rhythm and a groovy bass. Originally Ray Bach worked as art director and composer in the advertising industry. He created music sound clips with a short length. This style is still today's typical for his work. "Brevity is the soul of wit" is his motto.
The airy In an Indigo Mood is stuff for contemplation and dreams, while the energetic Beyond Emerald Hills weaves a carpet of synth sounds to an epic story. Most of the songs like Smooth Tangerine Glow have a melody which is altered in many directions and interpreted by several instruments mainly by keyboards or synthesizers.
We travel further in the land of fantasy with Cerulean Waters. A propelling beat signals uplifting music and Ray shows bright and dark elements of his creation. Sounds like a Moog and the beat of a drum box. Blue Touches Red opens the door to the musical past.
The songs of Ray Bach are often structured but also nimble and incomprehensible like a smoke signal. Twilight Violet Pearl reminds me of Winfrid Trenkler, who presented in his radio show Schwingungen spherical music of all kind. Pale Streaks of Mauve offers a great spectrum of electronic music with a reminiscence to this old time too. A declination of waves.
Some colors are not offensive but of such gentleness and tenderness like Fading Colors. A song of great sensibility. Instrumental reggae is presented in the interlude Silver... Reprise. A seldom combination of electronica and trumpet is the final Trumpet Shop featuring Niels Karsten. Nils is an in-demand parallel as a Keyboarder or trumpet player in the German music scene.
As a longtime listener of Freeze Frame's music I can state Ray Back is true to his unique style through the changes of time and music. A rare gem worth to discover.




Buy the album



Album Information

Title: Colors Of Summer
Artist: Freeze Frame
Year: 2009
Length: 0:50:03
Genre: General Jazz
Label: Laterne Tonträger


Tracks:

01 Silver Sunrise [3:23]
02 Sunny Yellow Awakenings [3:54]
03 Shades of Orange [3:51]
04 In an Indigo Mood [3:53]
05 Beyond Emerald Hills [4:32]
06 Smooth Tangerine Glow [3:52]
07 Cerulean Waters [3:50]
08 Blue Touches Red [4:36]
09 Twilight Violet Pearl [4:44]
10 Pale Streaks of Mauve [5:16]
11 Fading Colors [3:39]
12 Silver... Reprise [1:09]
13 Trumpet Shop [3:24]



Further review: