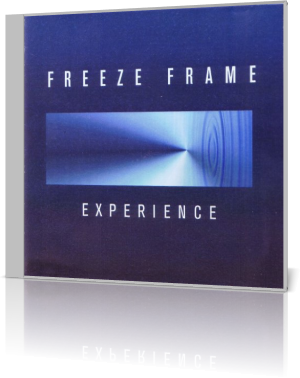 To fill a gap in education or to give a secret tip, from which side you approach the phenomenon Freeze Frame, it's worth to discover. I am reporting for years now about Ray Bach's albums, but the novelty is consistent. His relative unfamiliarity for the American listeners is explained by the few far too few live performances.
This year, he delights us again with a new release. Experience is the costliest, which Ray has ever produced. The longest album, the most musicians, the largest production expenses. That makes curious! Ray comments꞉ "It's all about experience, it's all about influence and inspiration."
As dazzling as his music, so different are his idols. He counts to his influences Solar Fire, Sakamoto and Yellow Jackets. Involved in the new project, in addition to arranger, songwriter, producer and keyboardist Ray Bach are Petra Rathmann (sax), Ricky Garcia (guitars), Lisa (vocals), Nils Karsten (trumpet), Lars Slowak (bass), Andrew McGuinness (drums), Georg Hahn (vocals, guitars, bass), and Dirk Bakker (drums).
With Moods of New York introduces Ray into his album. This song is dedicated to his great fan base in the New York area. Uplifting and swirling. Groove Agent enchants with Liza's bewitching voice and Nils Karsten's atmospheric trumpet. Then Ray delves into the synth sound world with A Smile Is Worth Hundred Words. A Magic Potion is created for all lovers of a good cup of coffee. Ray prefers the South American beans. That explains the Latin impact of this piece.
An intense acoustic bass, xylophone and guitar sounds, there is nothing that is not conjured up by this keyboard magician on I Wear My Orange Coat. Andrew McGuinness sets precise accents on drums. All I Do and My 9-3 present this time Lars Slowak as a gifted singer. With In the Spotlight Ray demonstrates the full range of his creativity as keyboardist and multi­instrumentalist.
One More Lie is a rockish collaboration between Ray and singer and guitarist George Hahn. Same Time, Next Year is Ray's tribute to his friends, he sees seldom but one or two time a year. With The Night Comes Down Ray paints a picturesque soundscape. After a Long Day sums up musically everything you can look for to relax after a hard-working day. The Man from South-Africa is a rhythmically driving piece that pulses like life itself. And finally A Smile. Piano pure then swinging sounds.
Ray Bach writes his own music history. The inquisitive audience is rewarded with new sound experiences.




Buy the album in all stores

Album Information

Title: Experience
Artist: Freeze Frame
Year: 2014
Length: 0:59:21
Genre: General Jazz


Tracks:

01 Moods of New York [4:47]
02 The Groove Agent [4:26]
03 A Smile Is Worth Hundred Words [3:57]
04 A Magic Potion [3:39]
05 I Wear My Orange Coat [4:16]
06 All I Do [3:58]
07 My 9-3 [3:49]
08 In the Spotlight [3:59]
09 One More Lie [3:59]
10 Same Time, Next Year [4:04]
11 The Night Comes Down [4:25]
12 After a Long Day [3:37]
13 The Man from South-Africa [6:34]
14 The Smile Returns [3:51]



Further reviews:

Transition