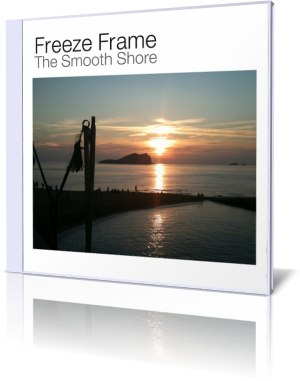 Freeze Frame is a project of German keyboardist and composer Ray Bach. Not related to the great German composer and organist of the Baroque Period he shared with him an amazing compositional talent. His creativity already meandered into the albums The Book of Movie Scores (1989), The Crossover (1992), Loving Life (1994), Feelin' So Good (1996), A Balanced World (1999), Transition (2006), Colors Of Summer (2009) and The Score Of Moviebooks (2012).
Settled on the borderline between Smooth Jazz and New Age Ray creates a special German style of Smooth Jazz, which is similar to the music of Dancing Fantasy, Blue Knights, Colors In Motion, Interface and more.
In his comment of his previous album he wrote: "I was reminded of the creative process from 20 years ago and just wanted to go free and unencumbered to the approaching anniversary album, as I did on my debut. It was also a journey into the past. The process actually worked, the output was enormous, the material could have easily fit for a second album. Perhaps that will also be published."
He has made true his announcement with the EP The Smooth Shore (2012). Ray could have waited until the next year and then release a new album. But in the fast paced world most buyers tend towards downloads and his record company suggested an EP. Ray composed, performed and recorded all songs, what today seems to be a sign of normalcy.
The EP begins to flow with Terrace View, a multi-layered piece with a steady rhythm, floating keyboard sound, and Tom Farmer's sax above. Genius flares up when he reaches his short piano sequence. Just Flow is exactly what the title promises. Based on a outlined melody Ray offers tonal gimmicks here and there.
On Blue Wave Hotel Ray experiments on keyboards. It creeps me the impression, that he develops some of his musical ideas while playing. The Smooth Shore features singer LIZA. We could already listen to her lovely vocals on City Of Rain (The Score Of Moviebooks).
Traditionally, an ashram is a spiritual hermitage. Additionally, today the term ashram often denotes a locus of Indian cultural activity such as yoga, music study or religious instruction, the moral equivalent of a studio or dojo. Ray empathizes these spiritual vibrations with Sunset Ashram.
The Smooth Shore is a consistent implementation of known musical ideas. Ray Bach is still sailing on his flagship in the waters of New Age. I wish him a safe journey.