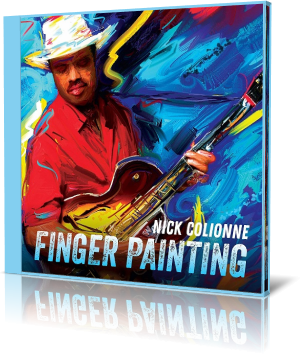 Music is often compared with the kindred fine arts, with painting. The overall impression is created by the combination of several color layers comparable to the complex chords of a piece of music. What could be more obvious than Nick calling his latest album Finger Painting.
The album was released April 24, 2020 on the label Trippin 'n Rhythm. The cover was created by Bettie Grace Miner, which in a sophisticated way combines photography and painting. Producers and keyboardists Chris 'Big Dog' Davis, James Lloyd (from Pieces of a Dream) and John Blasucci are supporting this project like his previous album Just Being Me (2018).

The album opens with Let's Get Serious, the first single release of the album. In his usual manner, Nick serves us a skillful mixture of full-bodied jazz fused with R&B groove. When Circles starts with the rhythm guitar, one estimates some edgy funk, but quickly turns the character in a fluently smooth jazz guitar drive.
Romantic Nites conjures commonly referred to as the emotional journey. Spankies works with finger-clapping and foot-tapping cleverness. Call Me Love is a love ballad with a wonderful musical poetry.
The sultry urban infected Right Around The Corner exposes a huge display of prowess and musical presence. The Closer I Get To You was written by James Mtume and Reggie Lucas and originally performed by Roberta Flack and Donny Hathaway on Flack's 1977 album Blue Lights in the Basement. Nick inhales the melody and transforms it skillfully decorated as if it were a delicious candy.
On Just Let it Be Nick celebrates his virtuosity according to the motto make the melody as easy as possible so that your skills shine during the improvisations. Only 2CU Smile is fully dedicated to the melody, which picks up on proven elements with a groovy flow in the style of Frankie Beverly's Mace.
Chi-Town is an affectionate nickname for Colionne's hometown Chicago. The tune reminds of the great Big Band time with a enormous punch of horns. Riding is stylistically more of a Chris 'Big Dog' Davis piece, although Nick with his Epitome guitar fits perfectly into this flair.
Nick Colionne's musical bliss illuminates Finger Painting independently of its diversity like a sonic beacon. We all fervently hope to see this great entertainer live on stage again.




Biography

Website


Buy the album in all stores

Album Information

Title: Finger Painting
Artist: Nick Colionne
Year: 2020
Genre: Smooth Jazz
Label: Trippin 'n Rhythm


Tracks:

1 Let's Get Serious 04:06
2 Circles 04:08
3 Romantic Nites 03:48
4 Spankies 03:57
5 Call Me Love 04:16
6 Right Around The Corner 03:47
7 The Closer I Get To You 03:35
8 Just Let it Be 03:54
9 Only 2CU Smile 04:36
10 Chi-Town 03:36
11 Riding 04:13




Further reviews:




Just Come On In

Keepin' It Cool

No Limits

Feel The Heat

Influences