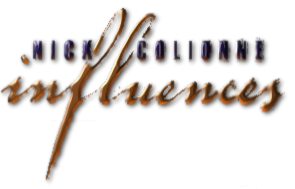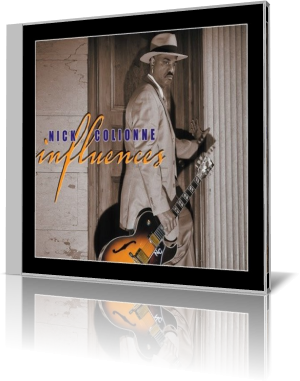 Chicago based guitarist Nick Colionne just released his new album Influences on Trippin' N Rhythm Records. The death of his longtime partner and manager Carol Ray overshadowed the production of this project. The album is dedicated to her.
Heavily involved in the recording is Pieces of A Dream keyboardist James Lloyd, who also has written and produced several of the tunes. Furthermore credited are singer Maysa, keyboardists John Blasucci, Chris "Big Dog" Davis, Tim Gant and Mike Logan, bass player Tony Brown and drummer Tom Hipskind.
Slammin' means very attractive, wondrous, in style, cool, hip. All attributes are defining the starting tune of Nick's new album. Got to Keep It Moving offers a throbbing bass rhythm, on which Nick develops his guitar ideas.
Nico's Ride gallops on a constant shuffle beat decorated with orchestral hits and synth harmonies. Whatcha Gonna Do is a fine interplay between Nick and James with a dynamic flow. A tune all of a piece.
The ballade Born Again features Colionne and Maysa in a fascinating duet. When You Love Somebody would be certainly suitable as a love song. But we also find irresistible the flattering guitar sound. Like on Here's to You. Lots of love Nick has also set in the Song C-Ray, his musical memory of the late manager Carol Ray.
With Whatta 'Bout You explodes the funk again. Finally the album ends with Sting Like a King B, a powerful Blues song.
Nick Colionne proves with Influences again his musicianship on the guitar across all genres.




Biography

Website


Buy the album in all stores

Album Information

Title: Influences
Artist: Nick Colionne
Year: 2014
Length: 0:46:49
Genre: General Jazz
Label: Trippin' N Rhythm Records


Tracks:
01 Slammin' [5:07]
02 Got to Keep It Moving [4:51]
03 Nico's Ride [4:39]
04 Whatcha Gonna Do [5:27]
05 Born Again [4:07]
06 When You Love Somebody [4:24]
07 Here's to You [3:53]
08 C-Ray [3:54]
09 Whatta 'Bout You [5:24]
10 Sting Like a King B [5:02]



Further reviews꞉


No Limits

Discography꞉

It's My Turn (1994)

Arrival (1996)

The Seduction (1999)

Just Come On In (2003)

Keepin' It Cool (2006)

No Limits (2008)

Feel The Heat (2011)