| | |
| --- | --- |
| Archive | |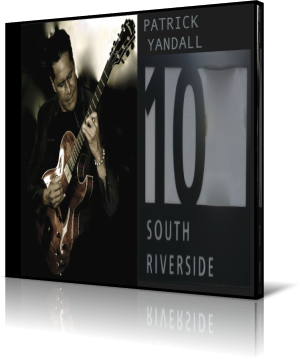 Guitarist Patrick Yandall releases new albums with the precision of a Swiss movement. His newest project is entitled 10 South Riverside and produced on his label Zangi Records. On his previous records he collaborated with artists like Randy Brecker, Will Lee, Joel Rosenblatt, Ada Rovatti, Scott Wilkie, Andre Mayeux, and Nathan Brown.
Todays Patrick feels comfortable performing and producing his albums himself. So did he on A Journey Home, Ethos and on his new album. Patrick has written all songs on his new album except Breezin', which was composed by Bobby Womack.
Patrick sets a musical monument to the well-known English actor and comedian Rowan Atkinson with Mr. Bean, a gracefully played theme, driving and elegant at the same time. The Samba tune Kona Boy has a certain Mezzoforte flair.
Breezin' was a song of the popular soul singer Bobby Womack, who died in 2014. Gabor Szabo performed the song on his album High Contrast (1970). Six years later George Benson became with his version a superstar. Patrick performs this cover throughout spritzy.
Sunrise In Monroe is Patrick's tribute to this marvelous city in Michigan. The beauty of the song underscores Patrick's pronounced affection for this city. With Free Flight Patrick honors the recently deceased guitar legend Chuck Loeb. On Thumbs Up Patrick leaves plenty of room for other instruments like vintage organ, xylophone, and drums giving the piece some acid jazz flavor.
I don't know, what kind of place you will find at 10 South Riverside. After Patrick Yandall's music this must be a vital city with a well-functioning, confident and buoyant society. I remember an album by Chuck Loeb called Memory Lane. Patrick's own memories are taken from a colorful world. With Momma T, Its Always Been You, Thunder Road, Hermosa, Albany Park and Jump Back James Patrick is not stingy delivering other acoustic stimuli.
When you're just craving good music with enduring qualities, then Patrick Yandall's songs are hidden jewels awaiting the exploration of audience.




Buy the album in all stores

Album Information

Title: 10 South Riverside
Artist: Patrick Yandall
Year: 2018
Genre: Smooth Jazz
Label: Zangi Records


Tracks:

1 Mister Bean 04:04
2 Kona Boy 03:57
3 Breezin 04:22
4 Sunrise in Monroe 04:21
5 Free Flight 04:18
6 Thumbs Up 04:06
7 10 South Riverside 04:04
8 Memory Lane 04:16
9 Momma T 04:18
10 Its Always Been You 03:52
11 Thunder Road 04:46
12 Hermosa 03:42
13 Albany Park 03:58
14 Jump Back James 04:12


Further reviews:


Back to the Groove

From The Ashes

Just Be Thankful

Samoa Soul

Laws Of Groovity

A New Day

New York Blues

A Journey Home

Acoustic Dreamscape

Ethos