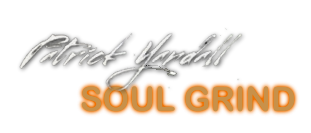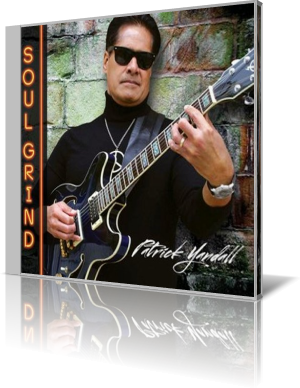 Patrick Yandall has already given in the past many examples of his unwavering creating power testified by the long list of reviews. Links can be found under Additional Information. This year he brings us a new smooth jazz album, Soul Grind.
Regularly Patrick performs with Nathan Brown (Bass), Tony Lee (Drums), and Kevin Flournoy (Keys). But when it comes to recordings he prefers to do his own thing. With the exception of three covers he has composed all tracks on the new album.
Of course you realize the experience gained by Patrick due to his many recordings. The deliberate and pondered way of guitar playing is unmistakable in My Lady. Soul Grind reflects his live performance, especially appreciated by friends of smooth jazz in the San Diego area.
On It's Time you notice that he cultivates a different way of playing on every song. Michael Jackson's Human Nature is one of the most performed in smooth jazz. Patrick sets own accents with his version. Forever is his further development of this topic.
Patrick dissolves with Room 335 of the Smooth Jazz scheme and approaches other styles. Larry Carlton started his career with this song named after his studio. The introduction of Say Ow assumes the begin of a rock song, but quickly he changes direction. It's evident: Several hearts beat in his chest.
Influenced by Eric Clapton Lay Me Down has that certain something. Patrick presents on More Than I Am a fascinating duet with a violin. Yandall also creates within his limited financial resources the maximum like on The Don. Patrick even withstands the direct comparison with Steely Dan on Josie.
But the most he affects in his own smooth jazz creations such as Sir Mango. Also the funky attitude like Bump This will not fall short of expectations. A humming bird can't live unless it's free to fly, so Patrick gives the bird freedom with the atmospheric When Robins Fly.
With Soul Grind Patrick sets new standards as a guitarist and composer. Fourteen songs or should I say fourteen arguments are speaking for themselves.




Biography

Website


Buy the album in all stores

Album Information

Title: Soul Grind
Artist: Patrick Yandall
Year: 2013
Length: 0:60:42
Genre: General Jazz
Label: Innervision Records

Tracks:

01 My Lady [4:06]
02 Soul Grind [3:54]
03 It's Time [3:53]
04 Human Nature [3:57]
05 Forever [4:14]
06 Room 335 [4:56]
07 Say Ow [4:54]
08 Lay Me Down [4:29]
09 More Than I Am [4:10]
10 The Don [3:59]
11 Josie [4:34]
12 Sir Mango [4:28]
13 Bump This [4:14]
14 When Robins Fly [4:55]



Further reviews:

Acoustic Dreamscape

The Window

Back to the Groove

From The Ashes

Just Be Thankful

Samoa Soul

Laws Of Groovity

A New Day

New York Blues