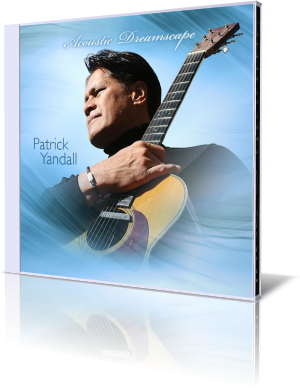 Guitarist Patrick Yandall is a musical powerhouse. With boosting creativity he mesmerizes in Rock (Going For One), Blues (One Hour Blues) and Smooth Jazz (The Window). Three albums just in 2010! His newest project is entitled Acoustic Dreamscape (2011) and Yandall's welcome return to Smooth Jazz.
Patrick has written all songs with the exception of two well-chosen covers. He performed all instruments, recorded and mixed the complete album. A real one-man-show! Unfortunately he provided no information about the new album on his website, which will be hopefully corrected soon.
When you are in the right mood to relax, then abandon yourself to the Yandall's acoustic guitar music. Acoustic Dreamscape is the perfect wave to reverie and easing. Full Moon is another nuance, more strangeness and secret venues. Remarkable is the fact is, that Patrick even plays the keyboard parts on his guitar with the help of the Roland guitar synth.
Only You shines with beautiful elegance. Acoustic guitar chords and background sounds stay in full harmony. American singer, songwriter Bob Dylan wrote All Along The Watchtower in 1967. The song became popular with Jimi Hendrix's outstanding interpretation a half year later. Patrick creates a smooth jazz rendition and wisely avoid to copy Jimi's eternal guitar cry.
On Steal Your Heart Patrick performs a glittering melody with so much flair. Even Peter White could be jealous. With the same silky skills he lets us admire Desire. Loveliness has a new face: Valentines Night. Yandall's guitar prowess impresses the most, when he takes the role of a medieval troubadour.
The album offers much more captivating melodies like for example Romance. The beauty of the melody is surpassed by Yandall's great phrasing, which makes every piece to an unique artwork. With Country Walk he takes a slight sidestep to the country side. Hanalei is the northern part of the Hawaiian island Kauai. The valley of Hanalei is surrounded by majestic mountains. The Jamaican reggae rhythm and the steel pans in the background associate a Caribbean heritage of the song, but that is paying tribute to the island casualness.
Final piece of the album is a Mood For A Day, a classical guitar solo piece written and performed by guitarist Steve Howe. The song was released by the progressive Rock group Yes on their pioneering album Fragile in 1969 and is still a reference piece for all guitarists.
Patrick Yandall's Acoustic Dreamscape would be the ideal gift for Valentine's Day, if Patrick would tell us, where to buy his album.