| | |
| --- | --- |
| Archive | |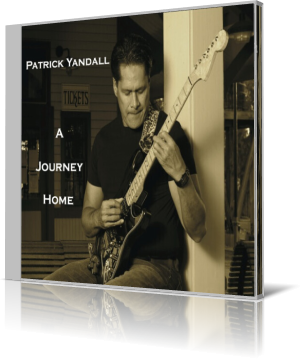 He is at home in many genres. He lives his love of music in blues, rock, smooth jazz, contemporary jazz and more. You never know in advance what direction his next album goes. A Journey Home (2017) is Patrick Yandall's return to his roots.
Patrick has written and produced all songs of the new project. The uplifting A Journey Home has the flavor of a sunny summer day. A hip melody with various instruments involved from guitar, horns to vintage organ. You never get a Second Chance for a first impression, but a musician always get the chance by writing new music. This song offers soul music with a retro savor.
Route 56, also known as Kuhio Highway, is the main highway on the north and east shore of Kauai island. Cruising Kuhio Hwy is the aptly hymn for your next drive on this beautiful island. Intimate Request holds your attention for longer with alluring sounds. My Ride has a subtle blues infusion with the ideal connection of horns and guitar.
On Spirit Moves Patrick eloquently plays the guitar while the vocal sample gives the song the right kick. With his golden sounding steel in his hand Patrick performs the funky Are You Ready with the ground breaking rhythm of a heavy laborer and a powerful horn section.
Passion presents Yandall's guitar in its most characteristic form. His fluid guitar strokes shine in all their majesty. On Sunday Offering Patrick shares the melody on organ and guitar painting a rural idyll of red poppies and yellow buttercups with wild rosemary, fennel, juniper and mimosa.
On Ranai "Romantic Love" Patrick embarks on a musical journey with an Asian flair and an overwhelming feeling of exoticism. One Way In serves a satisfyingly diverse musical palette with strong rock influences. Final piece is a genuine blues called Blue Jay Blues. Patrick masters a lot of instruments from organ, bass, horns to his beloved guitar. Honestly said, the goal of perfection is a spur to maximum performance.
With A Journey Home Patrick Yandall rises to new heights. Collaborating with other musicians would make his music even more successful.




Buy the album in all stores

Album Information

Title: A Journey Home
Artist: Patrick Yandall
Year: 2017
Genre: Smooth Jazz
Label: Zangi Records


Tracks:

1. A Journey Home (4:02)
2. Second Chance (4:08)
3. Cruising Kuhio Hwy (4:31)
4. Intimate Request (4:28)
5. My Ride (4:23)
6. Spirit Moves (4:07)
7. Are You Ready (4:08)
8. Passion (4:16)
9. Sunday Offering (3:52)
10. Ranai "Romantic Love"(4:20)
11. One Way In(4:25)
12. Blue Jay Blues (4:10)


Further reviews:


Back to the Groove

From The Ashes

Just Be Thankful

Samoa Soul

Laws Of Groovity

A New Day

New York Blues