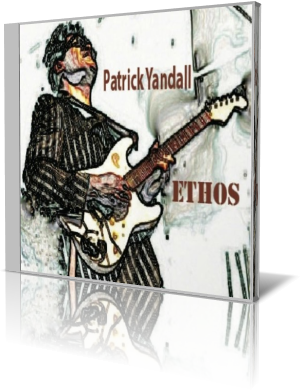 Guitarist Patrick Yandall serves with an amazing constancy and regularity the smooth jazz community with new releases. This year his new album is entitled Ethos. Ethos is the distinguishing character, sentiment, moral nature, or guiding beliefs of a person, group, or institution. The Greeks believed the power of music could alter ones emotions, behaviors and even morals!
On his new album Patrick is performing all instruments and has written all tracks. He also recorded and mastered the complete album at MoBop Studios San Diego. Good music doesn't need a special place and when Patrick calls the starter Peytons Place, then just to give the film in your head some nutrition. The tune is obviously influenced by Weather Report's Birdland.
Based on a flowing rhythm Patrick creates a guitar whirlwind on Ethos caring for much atmosphere. Biggah Mo Bettah provides funky guitar voicing and textures in the style of Brothers Johnson. Carlos Santana's Europa meets Wham's Careless Whisper to Say Goodbye. Pure emotion.
She Fine has the spiritual intensity of America's earworm and the retro feeling established in the time of Motown. My Sanctuary highlights what every artistic medium needs to survive. The emotional core which unites his fan ship. From the sweet melody of Waterfront Strut rises like a phoenix Patrick's improvisational guitar talent.
Shakedown comes with a heavy organic step combining guitar, bass and horn arrangement to a solid boiling point. With Hammond B3 and guitar Yandall elevates the magic of Make It Happen. The perfect Blues infusion benefits the quality of the tune. Heavens Smile merges warm synth voices with catchy guitar chords. Surprise Surprise presents the listener with a fleeting moment the Hohner clavinet sound as counterpart to the known guitar riffs.
Friday Groove sees a change of role with Yandall as singer of the refrain while the guitar sips along. Memories of You revels in Carlos Santana style but Patrick is not Santana, he makes it bigger, nicer and better. Oh Brazil offers some peaceful serenity with Latin attitude. C Ya is a tranquil Good Bye till next time.
Ethos shows a genuine Patrick Yandall, the epitome of jazz guitarist. A powerful instrumentalist with flawless and affecting delivery.