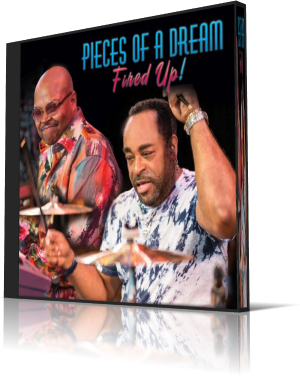 Pieces of a Dream are keyboardist James Lloyd and drummer Curtis Harmon. Connected for an incredible forty plus years, they were and are an beloved integral part of the smooth jazz community. Not at all aloof, they keep a direct line to their ever-growing fan base.
Meanwhile is the new project Fired Up! (2021) their 25th album and their fifth on the Shanachie Entertainment label. Despite the obstacles of the corona pandemic, the duo is able to record the album with the help of musician friends without any major problems. This is where the many years of routine become noticeable.
Both have written most tracks. Bass player David Dyson contributes a song with Gettin' Through It. Further involved are Tony Watson Jr. (sax), Parker Lewis (trumpet), Chris Harris (guitar), Alexander Zonjic (flute), BK Jackson (sax), Justin Lee Schultz (piano), and Donald "Pup" Bolding (guitar).
Starter of the album is In To Deep with which Pieces of a Dream goes into full. The band is pressure fully supported by Tony Watson Jr. on sax and Parker Lewis on trumpet. James doesn't miss the chance to shine on the keyboard in a familiar way. He is simply the showman.
The title Ear Candy is well deserved by the following piece. The message is best spread through the saxophone and the right messenger is Tony Watson Jr. who portrays it in all its loveliness.
There is nothing forbidden in musicians making use of sound sequences that have already proven themselves in their progression in the past. Smoothing Out sounds suspiciously familiar, yet pleases in its poignant melodiousness. With the protagonist Alexander Zonjic, James has already shaped many performances in the Detroit area.
Livin' The Life pleases with funky attitude, which gives the piece a young dynamic touch. Saxophonist Bk Jackson and keyboardist James do a great job with crisp solos. You can hardly believe your ears. Old drum programs are actually being used on Just Do It!. And let me tell you, with resounding success.
In the exciting and entertaining succession, we have already arrived at the title track. The full-bodied song contains all the elements that made smooth jazz so great. With Feelin' Good, Curtis Harmon has given romance a place on the album. Chris Harris on acoustic guitar, Tony Watson Jr. and James ensure an atmospheric result.
On It's A Vibe Chris Harris provides the piece some rocky pepper with his distorted guitar. The sax-heavy Gettin' Through It plays into Tony Watson's hands. More overdub isn't possible. James Lloyd shows us with Going Home that he didn't waste his ammunition with the previous songs. A masterpiece of musical art.
Pieces of a Dream have made the most of their incredibly long musical careers to perfect their talents in performance, arrangement and composition. With Fired Up! they put another slice on top.





Buy the album in all stores

Album Information

Title: Fired Up!
Artist: Pieces Of A Dream
Year: 2021
Genre: Smooth Jazz
Label: Shanachie Entertainment


Tracks:

1) In Too Deep (4:32)
2) Ear Candy (4:17)
3) Smoothing Out (4:37)
4) Livin' The Life (4:13)
5) Just Do It! (4:35)
6) Fired Up! (4:06)
7) Feelin' Good (5:41)
8) It's A Vibe (4:13)
9) Gettin' Through It (4:18)
10) Going Home (4:04)




Further reviews:

Love's Silhouette


Pillow Talk

No Assembly Required