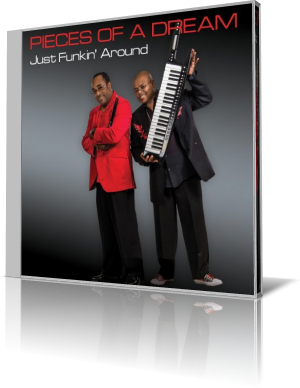 More than twenty albums, over forty years creative work. Pieces Of A Dream are an institution in the smooth jazz genre beyond their early expectations. With Just Funkiní Around they build the next pave stone to international stardom.
This project was recorded by Curtis Harmon (keyboards, drums and percussion), James Lloyd, George Granville lll (keyboards), David Dyson (bass and keyboards), Randy Bowland (guitar), and Tony Watson Jr. (saxophones and keyboards). Remarkably, the band waives the use of drum computer and programming.
The album kicks of with the funk infused Right Back Atcha inspired by Steve Wonder's music. A performance with lots of pep. Just Funkin' Around goes the extra mile, when it comes to funk. Wah-wah guitar, a ducky sax, Hammond B3, organic in sound with the awareness of rooting the execution moves to the next level.
With the powerful Shaken, Not Stirred Pieces of A Dream draw the sax ass. Tony Watson Jr. is the real deal. On Sensuosity James Lloyd creeps into the pulse of smoothness with the mild sweetness of his keyboard. Fast Lane opts the foot stamping, hand-clapping mode cheering for encouragement.
A new musician, a new flow, A New Day. The breathtaking synth expression is George Granville III's superb contribution to this great album. The forceful On the Move presents the high artistic skills of the group especially of James Lloyd and Tony Watson Jr. in an electrifying way. No Doubt reveals an unbridled joy of creativity in a groovy shuffle.
Let's Do This places saxophonist Tony Watson Jr. into the limelight, while Randy Bowland's funky guitar plays the rhythm part. Manhattan is a central theme in the work of Pieces Of A Dream. Some might remember their Goodbye Manhattan from the albums Goodbye Manhattan and Sensual Embrace: The Soul Ballads. In strong organ and piano keystrokes James masterly describes the living pulse of a mighty city.
Pieces Of A Dream are one of the most consistent and passionate groups of smooth jazz. With an abundance of flawless musicianship on Just Funkiní Around they sovereignly continue to move to new levels of leadership within the smooth jazz genre.