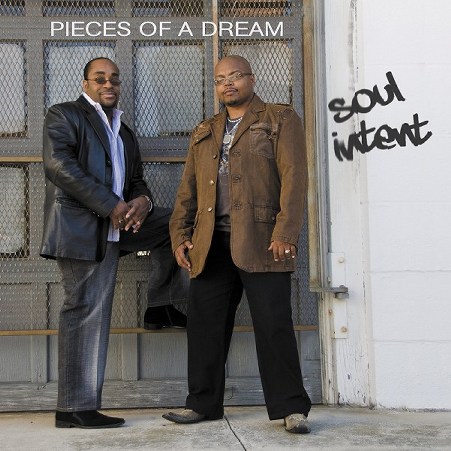 God bless America, God bless Pieces of a Dream. Really, did they already release 17 albums? Time flies and seldom is a group so productive like POAD. I remember, when I bought their first album Pieces Of A Dream in 1981. Followed by We Are One (1982), Imagine This (1983), Joyride (1986), Makes You Wanna (1988), their Disco-styled album Bout Dat Time (1989), In Flight (1993), Goodbye Manhattan (1995), The Best Of Pieces of a Dream (1996), Pieces (1997), Ahead to the Past (1999), Acquainted With The Night (2001), Sensual Embrace (2001), Love's Silhouette (2002), No Assembly Required (2004), Pillow Talk (2006) and now Soul Intent (2009) - a huge collection.
Time for keyboardist James Lloyd and drummer Curtis Harmon, the founding duo and driving force behind the enduring contemporary jazz collective, to remember the past and a look back. "One of my main goals was to go back to the original approach to making a Pieces record," says Lloyd. "The idea was to bring everyone into the studio at the same time so we could all work together in real time. A lot of people really get into that vintage sound from our first three albums, that period from '81 to '83. I figured if we went back to those old-style methods of recording and writing, then that element of vintage Pieces might show up in the music itself. It was an opportunity to bounce ideas off each other in a way that we could never have done had we recorded it separately. Five heads are definitely better than one."
Beside James and Curtis was the studio filled with Tony Watson, Jr. (saxophone), Martin Walters (programming), Randy Bowland (guitar), Bennie Sims (keyboards, programming, bass), Eddie Baccus, Jr. (saxophone), Rohn Lawrence (guitar), David Dyson (bass), Joe Cunningham (saxophone). I assume the musicians had several sessions to avoid an overcrowded studio.
The first tune Sway sounds familiar. On a relaxed sax background James Lloyd develops his elegant piano style. The combination of sax and piano is obviously the Pieces' trademark, shown in Vision Accomplished. While Tony Watson delivers the sweet melody James deliciously improvised on his keys.
Another element one often can recognize is the stomping beat in the way of Give U My Heart. James masterly kicks the key and there is magic in the air.
APB is written and produced by Curtis, Bennie Sims and Holmer Lewis. From the starting point, let's call it a repetitive sequence, the competent musicians contribute own improvisations and themes. Hindsight evokes silky impressions of a gloomy night in a cocktail bar, holding your beloved woman in your arm and listening to your favorite pianist.
Those who love smooth jazz but wait for a new impact should listen to the sassy Soul Intent. James Lloyd 's inpouring piano performance flavored with brilliant sax injections underlayered with an urban beat is really irresistible. The tricky use of the Japanese Koto gives Step On It a fresh propulsive direction excellently transferred to James' piano work.
The crispy Things Are Looking Up offers some funk elements for your joy and pleasure. When did I hear a drum solo by Curtis Harmon last time? Great!
James Llyod comments D Fuse The Situation: "I can't really think of myself as being in the same league as Herbie," says Lloyd, "but when I listen to that song, I feel like there are some moments where his inspiration is coming through. It's a very old-school track, where we just let loose and play." A tune with a lot more space for improvisation than melody structure. Unusual for POAD but certainly an enrichment.

Stand Up is featuring sax player Joe Cunningham and guitarist Rohn Lawrence who shine in solos. Curtis Harmon (pleased): "It turned out a lot better on the album than I originally thought it would. At first, I wasn't getting the vibe and the energy that I was looking for. But when I added some guitar and percussion, as well as the saxophone parts, the song started to breathe and really come to life."
The closing ballade Anywhere You Are has such a strong and awesome melody. This song is worth a vocal interpretation. The soul intent is fulfilled, just and exactly here.
Thanks God. Pieces of a Dream are back and they haven't lost their glamour.


Title: Soul Intent
Artist: Pieces Of A Dream
Year: 2009
Length: 0:55:00
Genre: Smooth Jazz
Label: Heads Up International


Tracks:

01 Sway [4:12]
02 Vision Accomplished [4:20]
03 Give U My Heart [4:39]
04 APB [4:26]
05 Hindsight [6:34]
06 Soul Intent [4:22]
07 Step On It [4:30]
08 Things Are Looking Up [6:16]
09 D Fuse The Situation [6:24]
10 Stand Up [4:22]
11 Anywhere You Are [4:56]