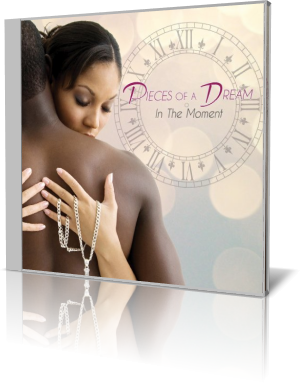 The legendary group Pieces Of A Dream is an original Philadelphian smooth jazz formation. Keyboardist James Lloyd, drummer Curtis Harmon and former bassist Cedric Napoleon, became popular under the patronage of Grover Washington Jr. Later Cedric left the group, what their success did not diminish. After Soul Intent, Pieces of a Dream's latest effort on Heads Up, the group now sails under the flag of Shanachie Entertainment.
Their 20th album In The Moment is just released and is so fresh that POAD hasn't even updated their new website. The album features superstar guitarist Rhon Lawrence, up and coming saxophonist Tony Watson, Jr. and bassist David Dyson. Shanachie label stalwart Chris "Big Dog" Davis joins these longtime friends.
In The Moment is a instantaneous inventory of where the band currently stands. The group shows itself in the formation, in which they also frequently occurs as a live act. It is also the style that represents the group. Tony Watson Jr. leaves it all on the stage and also on this recording. No overdub but pure sax. Tony is no unknown, he also performed on CDs of Walter Beasley, Najee and previous albums of POAD.
For Real starts with an outstanding dialogue between keyboardist Lloyd and bassist David Dyson, both are expanding their parts in the following to impressive solos. Steppers "D" Lite is dedicated to Zumba-trainer "Lady D", who put together a line dance to the POAD song Summer.
James is besotted with the sound of his Yahama Motif keyboards. Several years ago he wrote a composition. He comments: "Every time I hear it I get misty eyed." Exactly that is the title of the piece with a huge romantic vibe. Now jumps producer Chris "Big Dog" Davis in the ring with TTYL (I'm Driving) featuring guitarist Rhon Lawrence. Synth and guitar sound melt to an attractive harmony.
People Say is a typical Sunday-morning-feel-good song with Tony Watson on sax painting the melody and an awesome guitar solo by Rhon. A very popular genre is New jack swing spearheaded by Teddy Riley. Together with Jimmy Jam they influenced a whole generation of musicians James Lloyd included. NewJazz Swing is his personal tribute. Under The Influence (Of Pieces) is a tune with a great piano performance wrapped around some drum and keyboards programming.
Drummer Curtis penned the romantic ballad Never Let It End with Babyface's style in mind. Rhon and Tony add some instrumental charm. "Just Rhodes and sax and that's it!" was the idea behind the soulful Coming Home, written by Tony and James. Sometimes like here is less more. To consistently perform this motto to an end, James continues with There Will Never Be Another You, a jazz standard and solo piano piece by Oscar Peterson.
James Lloyd and Curtis Harmon have realized, that versatility pays off. It is not easy always to reinvent themselves. But the two have succeeded with In The Moment.




Buy the album in all stores

Album Information

Title: In The Moment
Artist: Pieces Of A Dream
Year: 2013
Length: 0:51:48
Genre: General Jazz
Label: Shanachie Entertainment

Tracks:

01 In The Moment [5:33]
02 For Real [4:50]
03 Steppers "D" Lite [3:43]
04 Misty-Eyed [4:38]
05 TTYL (I'm Driving) [4:29]
06 People Say [5:08]
07 NewJazz Swing [3:44]
08 Under The Influence (Of Pieces) [4:30]
09 Never Let It End [5:55]
10 Coming Home [5:21]
11 There Will Never Be Another You [3:57]

Further Reviews:


Love's Silhouette

Pillow Talk

No Assembly Required