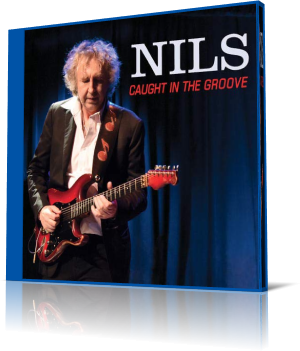 LA based jazz guitarist Nils belongs to the first guard of top guitarists of the smooth jazz genre with albums like Blue Planet (1998), Pacific Coast Highway (2005), Ready To Play (2007), Up Close And Personal (2009), What The Funk (2010), City Groove (2012), Alley Cat (2015), and Play (2018). His new album Caught In The Groove (2020) meets an audience in difficult times.
Nils plays on the album guitars, synths, Rhodes and programming. He is supported on selected tracks by Oliver C. Brown (percussion), Johnny Britt (organ, vocals and horns), Mitch Forman (piano), Derrick Dmar Martin, Tony Moore, Gorden Cambell (drums), Darryl Williams, Reggie McBride, Darryl Jones, Carsten Schmelzer (bass), Clydene Jackson (Rhodes), and Dov and the LoveStar Strings (live string section).
The album is started by the title track, a dynamic rollover in soft rock infused style of the 80's pushing you to the next level of groove. Mitch Forman on piano and Johnny Britt on horns add some special glam up to the sonic hit train. The uplifting Good Times are Better brings back the Pacific Coast feeling, which makes smooth jazz so great.
Outa Sight begins gently and ingratiatingly, but then gets a pressure-packed punch. This is further emphasized by the fact that Nils sets small high chordal riffs between the melody sequence. Above the Clouds is undoubtedly the sonic crown of this album with a formidable attraction. Johnny Britt delivers with vocals and horns an amelioration which lifts the song to an EWF eternal hit category.
Stratmosphere is an artificial word formed from stratosphere and atmosphere. It appropriately and sensibly describes the floating ethereal sound of Nils' guitar performance. My Mornings With You are the wonderful moments of life full of harmony and peacefulness, full of love and hugs. Nils has captured these instants of happiness and vibes perfectly.
On Mind Games Nils embraces a brain blowing melody with strong chords showcasing in every way his mastery. I like The Way You Do It melts dreamily mainstream vocal pop featuring singer Clydene Jackson with instrumental smooth jazz to a captivating hook.
Life Is What you Make It is wise advice and statement. The song radiates peace and confidence in these dark times. All Roads Lead To You is an awesome love ballad, which is understandable for those who can listen. With Finally Here and When I Think Of You Nils has two more hot irons in the fire.
All songs on this new album have been written by Nils himself. The extraordinary density of creative power also in the instrumental realization makes Nils to one of the most outstanding guitarists who are acting in this century.