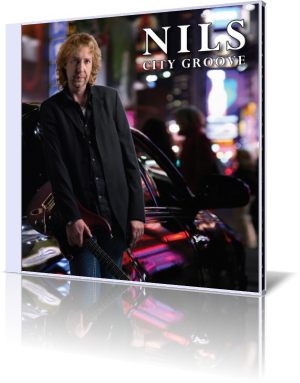 The fact that Nils was born in Germany, is based more on a pure coincidence. Long ago he has made his own American way of life. His music is full of inspirations for his American musical colleagues. Highlights of his solo career are the smooth jazz albums Pacific Coast Highway (2005), Ready To Play (2007) and Up Close And Personal (2009).
In September Nils will be one of the headliners of the Smooth Jazz Festival Augsburg 2012. Just in time he releases his new album City Groove on September 18, 2012. According to the liner notes of his upcoming CD he is joined by Ricky Lawson and Simon Phillips (drums), Darryl Jones, Reggie McBride and Alex Al (bass), Clydene Jackson and Mitch Forman (keys), Oliver Brown (percussion), Johnny Britt (trumpet), Dov (live strings), Eddie Brown (vocals), Jeff Golub (guitar).
The introducing title song presents trumpet player Johnny Britt, who delivers jazzy overtones to Nils' earth bounded guitar loops. Casablanca is Morocco's door to Europe. However don't await Arabian sounds. This song crystallizes Nils' typical guitar play with melodious chords on a pattern with wah-wah effects.
With Sunset Blvd Nils studies the connection to the great historic guitar melodies that have influenced him. On Let's Bounce he makes a major step to his performance style, which dominates his live appearance onstage. To understand what funk is all about I suggest to listen to Funk In Da House. Do you get the groove?
Get On The Dance Floor highlights Nils influences like Earth, Wind & Fire or Kool and the Gang. This sound is so captivating, when it weren't invented, the creation would be a must. The album also has romantic moments such as Red Wine And Sunsets. Call Me presents more alluring guitar stuff. Nils appeals from the full potential of his guitar.
The uplifting Have An Attitude brings to light another facet of this great guitarist. Nils celebrates the song dynamically, fully developed and purposefully. On Soul 2 Soul Nils meets guitar great Jeff Golub. Both play at such a high level that Eric Clapton may be jealous. Nils has a very distinctive sound. Up And Away is a good example for this narrative guitar play. Alchemy is the discovery of a means of indefinitely prolonging life. With The Alchemist Nils makes gold out of his guitar sound.
With his fourth smooth jazz album Nils thrills his audience with a keen sense of the ultimate sound. City Groove is certainly a new chart topper. Hopefully Nils will bless us in the future with more live performances to give his album a stronger voice.