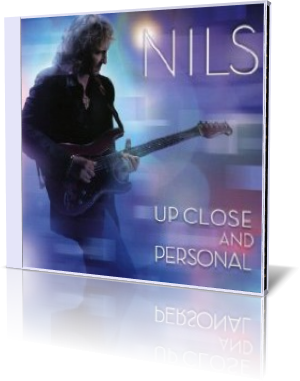 German born guitarist and composer Nils resides since the mid-80's in southern California. After visiting the musician institute in Hollywood Nils started in the 80's as an engineer in a recording studio. There he found the possibility to learn all technical tricks of recording, which was very helpful to record his first album Blue Planet, which was released in 1998 and received high acclaims. After composing for movie and TV Nils had the chance to work with Gabriele Anders, Rick Braun and others with the support of producer Paul Brown.
Nils avoids to listen to much to smooth jazz radio stations to keep his musical influences fresh. Nils plays Valley Arts guitars, like other Los Angeles studio musicians and jazz guitarists such as Lee Ritenour, Steve Lukather, Tommy Tedesco and Larry Carlton. On the quiet Nils is an avid lover of contemporary jazz although he realizes the needs of a secure income nowadays. But when he returned to his solo career it was as a smooth jazz guitarist with Pacific Coast Highway (2005) followed by Ready To Play (2007). After the tremendous success of both albums Nils is back with Up Close And Personal (2009).
Supporting musicians of this album are Clydene Jackson (keyboards, vocals), Oliver Brown (percussion), Ricky Lawson (drums), Reggie Mc Bride and Alex Al (basses). There are also some additional guest musicians like Shilts (sax), Larry Dunn (piano, mini moog), Eddie Brown (vocals), Dan Farrow (clavinet) and more. Nils composed all songs with the exception of Europa, which is an old Santana song from the time of Woodstock.
In this time of misery and recession there is still a remedy for relaxation and switching off, Nils' music. Soul Mates has an immense uplifting potential. Let's hum "We Are Soul Mates!" Up Close & Personal is Nils' serious expression of his knowledge and impetus. Quick and precise riffs define a captivating melody. Nils reveals that professional craftsmanship and sultry melodies are no opposite.
Let's have a dream. How about a Jazz Cruise? This is Nils' shout out to set into sea. By the way The Smooth Jazz Cruise 2010 is sold out! The interest in the cruise is unprecedented and very exciting. When Santana was touring with Earth, Wind & Fire in Manchester, England, he played Europa with Tom Coster who helped him with some of the chords and thus the song was born. It was renamed to Europa (Earth's Cry Heaven's Smile) and released on his album Amigos (1976). Nils' rendition is close to the original.
Never Let Go (Of The One You Love) is a good example for Nils' impetus, to create a melody in all its beauty. While your are still in the intoxication of this melody, the albums fades over to the funky 60 10 29. The meanings of this magic number remains in the dark while the song develops its dynamic.

Until I See You Again is featuring Larry Dunn on mini moog. Larry Dunn was keyboardist, musical director and one of the founding members of the music group Earth, Wind, & Fire. The clear guitar and the waving keyboard sound nurture a hooking melody. And when we talk about magic East Bay shouldn't be missed.
Where happiness and bliss meet, there you will find Happy To C U. Sunshine is in the air. Getting Hooked is a promise and a keeping. Benson-like guitar chords and humming along let you feel good. Give up everything but don't give up smooth jazz. Catalina is a beacon for the Catalina Island Jazz Festival and you shouldn't really miss it. The melancholic Winter Dream finalizes this awesome album.
Up Close And Personal is a basket full of infectious melodies worth a second listen. Nils enlightens the audience with that music, which makes smooth jazz so fascinating.




Bio





Website


Reviews about



Buy the album

in all stores




Album Information

Title: Up Close & Personal
Artist: Nils
Year: 2009
Length: 0:51:44
Genre: Smooth Jazz
Label: Baja/TSR


Tracks:

01 Soul Mates [4:45]
02 Up Close & Personal [4:17]
03 Jazz Cruise [3:51]
04 Europa [4:24]
05 Never Let Go (Of The One You Love) [5:18]
06 60 10 29 [4:26]
07 Until I See You Again [4:38]
08 East Bay [4:12]
09 Happy To C U [4:16]
10 Getting Hooked [3:38]
11 Catalina [3:55]
12 Winter Rain [4:04]