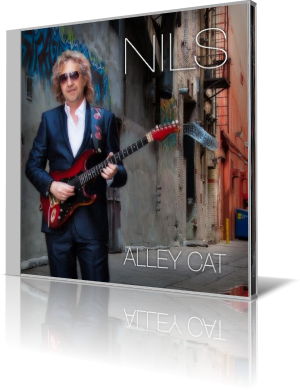 German born guitarist Nils has impressed the audience with smooth jazz albums like Pacific Coast Highway (2005), Ready To Play (2007), Up Close And Personal (2009) and City Groove (2012). After one year in the making he is now releasing his new project Alley Cat.
On his new CD he is joined by late Ricky Lawson (drums), Darryl Williams, Reggie McBride and Carsten Schmelzer (bass), Clydene Jackson and Nate Harasim (keys), Oliver Brown (percussion), Johnny Britt (keyboards, trumpet and flugelhorn), Eddie Brown and Kathryn Bostic (vocals), Reggie Codrington, Eric Marienthal (sax), DOV (strings, violas), Malcom Pearson (cello) and more. Many of his established companions.
With Two of a Kind Nils starts a fresh and uplifting guitar tune, a captivating burner with a straight melody. Alley Cat is a song like a full-bodied wine, topped off with strings and a horn arrangement. Donít Hold Back shines with Nils' typical hooking guitar play, one can hear on all of his previous albums. Johnny Britt and The JayBeez Hornz deliver some icing on the top with an easy going horn arrangement.
Saturday Night is the time to celebrate life and Nils offers the perfect hymn to keep it with elegance. Some Benson like guitar riffs (Give Me The Night) are finally dropped in. With Call of the Sirens Nils does not rely on the smooth jazz approach, but gives solely space to the beauty of the guitar sound. If you are familiar with Eric Clapton, you will love it.

When smooth jazz and guitar music merge their beauties In A Moment, the melody is self propelling. With Open Space Nils mesmerizes us again showcasing his great talent as guitarist and composer on the same level as Peter Green or Lindsey Buckingham. On Malibu the L.A. resident spreads some local flair. Spin Cycle indulges in the waves of Orchestral Manoeuvres in the Dark, reveling in the musical possibilities of new romance.
The advantage of an own home studio allows Nils to shape his music like on Night Flyer to reach the optimum in his format. That Nils has recognized the signs of the time, shows up on Milkshake performing right in the modern wind of smooth jazz. With a formidable brass backup of Eric Marienthal, Johnny Britt and The JayBeez Hornz combined with the urban stomp of Lawson and Brown there is indeed hustle and bustle. Since Pacific Coast Highway singer and composer Kathryn Bostic is no unknown to Nils' audience. Everything is their common gem.
Alley Cat offers a fascinating overview over the musical range of the spectacular guitarist Nils. Across all genres every one of his compositions combine the love for the ultimate melody.